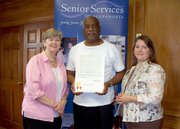 Alexandria — The Catalogue for Philanthropy: Greater Washington recently announced the charities selected to be featured in the 2013-14 Catalogue. More than 200 applications were evaluated by a panel of more than 100 expert reviewers from area foundations, corporate giving programs, and peer non-profits. Senior Services of Alexandria and four other Alexandria-based non-profits are included in the list of the 73 outstanding nonprofits to be featured in print this year.
"Senior Services of Alexandria is honored to be included in the 2013/2014 Catalogue for its work on behalf of Alexandria's senior population, said Gregory Murphy, president of SSA's board of directors. We will continue to work diligently to provide programs and services that will foster independence and self sufficiency, enabling seniors within the city of Alexandria to age with dignity."
The other Alexandria non-profits selected are: Carpenters Shelter, which provides a safe haven for individuals and families needing a temporary home; Computer C.O.R.E., a workforce development program that transforms lives by teaching technological education; and Emerging Scholars, which motivates underserved students to thrive throughout their educational journey to become effective citizens and leaders.
On June 25, Mayor Bill Euille, on behalf of the Alexandria City Council, highlighted this honor for the city, and issued a formal proclamation which states that the Catalogue for Philanthropy, its founder Barbara Harman, and all of its supporters are appreciated by the citizens of Alexandria and the people who benefit from these small nonprofits.
The Catalogue for Philanthropy was created in 2003 to instill passion, awareness and respect for philanthropy. It serves as a vehicle to promote charitable giving by the public and private sector. Its focus is on small charities — those that typically have important missions with meaningful results for their clients.
From traditional, direct mail catalogues, to innovative online portals, to special events and social media, the Catalogue's goal is to build networks of engaged donors and great nonprofits that will make a difference in new ways, on their terms. It also provides charities with a stamp of approval that tells donors they can invest with confidence. Print copies of the Catalogue will be mailed this fall in November and will be available of their website at www.cfp-dc.org.
"Charities were selected for excellence, cost-effectiveness, and impact" said Barbara Harman, president and editor of the Catalogue for Philanthropy: Greater Washington. These are certainly among the best community-based nonprofits in the Washington region."