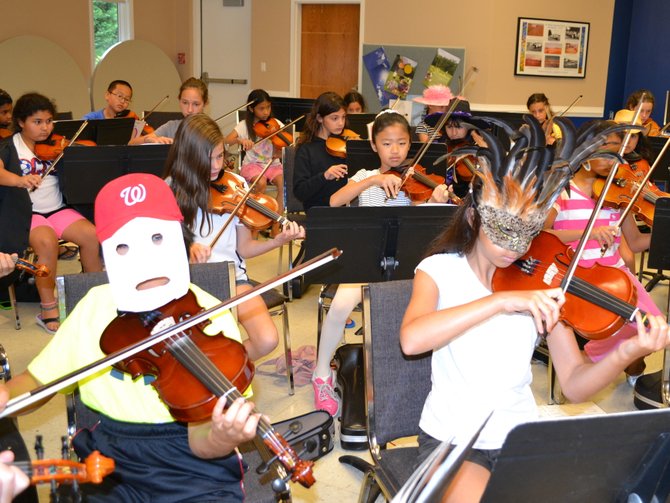 The strings students, made up of mostly rising fifth and sixth graders, packed up their instruments, adjusted their masks and robes, and said goodbye to their orchestra director, who was dressed as a rock star. They had just completed one of their final rehearsals before the students of this summer strings camp would present a concert open to their parents and the public.
The pieces sounded remarkably professional for an orchestra comprising mostly middle school students dressed in wacky costumes. The students were dressed in their silliest or scariest costumes on one of their favorite days of camp, "Wild and Wacky Wednesday." The Scream was there, as was a giant squid, a few hippies and rock stars, and a collection of crazy hairdos and homemade costumes. Director Ruth Donahue knows how to make a summer strings camp fun. And that may be the secret to its success. The week-and-a half program, which is held at St. Thomas Episcopal Church, is less formal than school orchestra, according to many of the students.
"It's not really serious," said Spring Hill student Richard Wang. "You get to have a lot of fun. It's not as serious as other camps I went to where you can't play kick ball and kick the ball onto the roof."
Donahue is the orchestra director at Spring Hill Elementary School. She started an orchestra camp when she lived in Oklahoma in 1983, and continued the tradition when she moved to Fairfax County in 1988. She offers the camp each year. "I noticed how middle-schoolers who have orchestra every day during school months learn and improve so much faster when rehearsing daily rather than weekly," she said.
Though the camp is fun, Donahue has been pleased with their progress. She expects them to work on their sight-reading skills, and to work on correct positioning and tone. They learn many styles of music including Baroque, classical, Romantic and contemporary. They also learn some history and discuss what the world was like when composers such as Bach, Mozart and Beethoven created their masterpieces.
The camp themes, games, prizes and certificates help bring many campers back each year. And although it is fun, even the students seem to recognize that they are improving. "You learn lots of new pieces," said Spring Hill student Nima Razavi. "And I think it's only for the people who want to do it. It pays off. Music lovers always want something new to do. And you have some fun, you learn some new pieces and you get better for the next year."