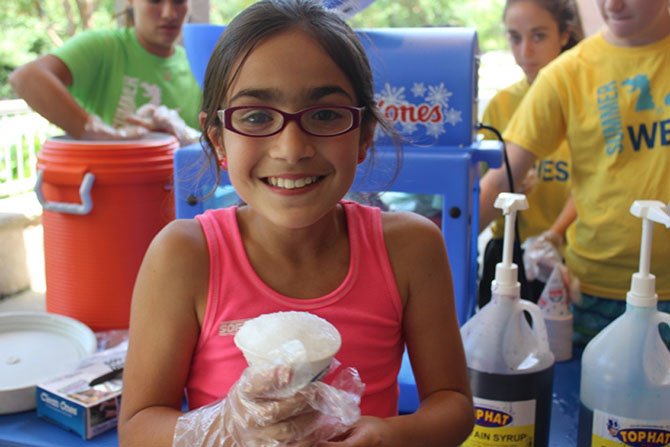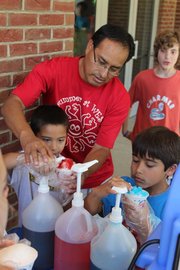 Potomac — Campers at Summer at WES in Bethesda, have a knack for business, and for philanthropy, as well. In five camp sessions this summer, they will donate hundreds of dollars to House With A Heart senior pet sanctuary, located in Gaithersburg. The camp session, titled "Mind Your Own Business," exposes the children to all the elements it takes to be an entrepreneur and run a business. This year they are making snow cones and selling them to fellow campers for $3 each. The sound of the ice shaving machine alerts the campers, hot from their daily activities, to the sale twice a week right after lunch.
"The kids come up with a plan, decide on a product to sell, and put the whole thing together to make a profit," said Camp Counselor and Washington Episcopal School teacher Brian Belstock. "They chose a good cause to donate their profits to, which makes it even more worthwhile. It involves teamwork, a lot of effort, and a little math — counting money, making change, and determining what the profits are." Counselor in Training (CIT), 15-year old Elena Kozak explained that the "campers make flyers on MACs to promote our snow cone sales. Last year we even made a commercial." Amy Lewis, 16, has been with the camp for 11 years and is now a CIT. She adds that "This experience really shows [the kids] how to run a business. We all get so excited about making $100 but then we have to deduct our costs, so our profit is much less." Camper Emelia Isola, 10, said she loves that fact they are helping old dogs.
Washington Episcopal School is an independent, coeducational day school in Bethesda, for students age 3 to Grade 8, founded in 1986. For more information, visit www.w-e-s.org.
House With A Heart's founder, Sher Povinale, received the Montgomery County Humane Society 2009 Humanitarian Award. For more information: www.HouseWithaheart.com.