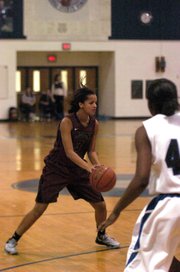 Kelly Loftus was a four-year varsity athlete who helped the Mount Vernon girls' basketball program capture three National District championships and come within one victory of a state tournament berth in 2012.
Loftus could score from anywhere on the floor, capable of attacking the rim or knocking down 3-pointers. The 2013 Mount Vernon High School graduate will play college basketball at Hofstra University.
Loftus recently took part in a Q and A with The Gazette.
*Gazette: What made Hofstra the right fit for you?
Loftus: I felt really wanted here. The coaches took me as I was already a part of the family, everything was very genuine.
*Gazette: What will you study?
Loftus: Most likely going to study mass communications and public relations. I might look into sports management, though.
*Gazette: What is your favorite memory of playing basketball at Mount Vernon?
Loftus: Winning the district championship my sophomore year as underdogs from losing three top seniors. No one expected anything from us.
*Gazette: If you could go back and change one thing about your high school basketball career, what would it be?
Loftus: Playing South Lakes again and not having everyone look at Mount Vernon differently. We play and work hard just like everyone else.
*Gazette: What are you most looking forward to about the transition from high school to college?
Loftus: The opportunities I have as a Division I basketball player.
*Gazette: At what age did you start playing basketball? Did you imagine you'd one day play in college?
Loftus: Around 6 years old. I've dreamt about playing in college since seventh grade.
*Gazette: Who is your favorite music artist? Why?
Loftus: Chris Brown. Been in love with him since he was 15. Just stuck ever since.
*Gazette: What is your favorite hobby outside of basketball?
Loftus: I don't really do anything besides play basketball, but I love people and I love just going out and having fun.
*Gazette: What location is the farthest you've traveled from the Washington, D.C. metro area?
Loftus: If it's to play basketball, Hawaii. But in general, I've been to Paris and London.
--- Jon Roetman