Photo Gallery
Alexandria Birthday Celebration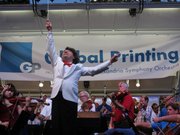 Click Photo for Flash
Alexandria — It was a party 264 years in the making as Alexandria celebrated its birthday July 13 with a day of fun and entertainment that culminated with a fireworks display over the Potomac River accompanied by the Alexandria Symphony Orchestra's playing of Tchaikovsky's 1812 Overture.
Held at Oronoco Bay Park, Maestro Kim Allen Kluge led the ASO in a concert that was highlighted by the U.S. Marine Corp Basic Training School, whose members provided the traditional canon salute during the 1812 overture finale.
"What an awesome performance," said 16-year-old Ben Taubner, a high school percussionist who traveled with his family from Scotia, N.Y. to hear the concert. "I loved everything they played."
The ASO concert, which included big band sounds as well as traditional patriotic arrangements, was in doubt earlier this year due to city budget cuts. Led by Alexandria-based Global Printing, private sponsors stepped in to defray the cost of the performance.
"We are so thankful for Global Printing and everyone who came together to make tonight happen," Kluge told the crowd, many of who braved a sudden downpour just prior to the start of the concert. "Tonight is always a very special evening for the symphony and we are honored to be a part of wishing Alexandria a very Happy Birthday."