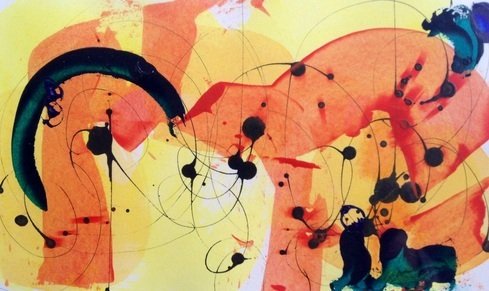 In their series highlighting local artists, Mediterranee owners Ashraf Hussein and Eddie Marine have chosen to follow up D.C.-based impressionist Frank James Ellis' in-restaurant exhibit with Nikole Smith's abstract paintings.
Smith's bold paintings, which will be on display until Sept. 7, form the second installment in a yearlong exhibit series at the restaurant featuring the work of local artists.
Smith paints bold, abstract pieces with traditional shapes, patterns and movements of a scene broken down and re-constructed into new sequences that show different relationships between motion and color. Among the pieces featured will be "Daylight," a mixed media painting depicting Smith's interpretation of a sunrise. She uses a vibrant intersection of yellows and oranges to convey the scene.
Trained at Syracuse University's School of Visual and Performing Arts in graphic design and illustration, Smith has spent the past 20 years working with different mediums, ranging from watercolors to Japanese-style ceramics. Her work has been displayed in venues throughout Northern Virginia, including the Art League Gallery at the Torpedo Factory and the Del Ray Artisans Gallery in Alexandria. She currently maintains a studio in Southern Maryland.
Why is a community restaurant making a big effort to get quality, rotating art exhibits on their walls? Hussein and Marine are not only enthusiastic about art, but, as Marine says, they feel it's important to support local culture as a community restaurant. Mediterranee, located in Great Falls at 10123 Colvin Run Road, serves American bistro cuisine with Mediterranean influences. The menu features seasonal ingredients and local produce.
All Nikole Smith's work will be for sale. Prices range from $350 to $1,000.
Get more details on the art and food at mediterraneerestaurant.com.