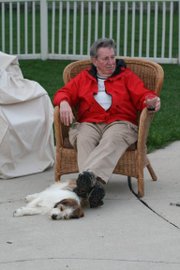 John Coolidge Graves, a Fairfax resident of East Templeton, Mass., died Tuesday, July 16. Graves was the son of Dellard Charles Graves and Ellen Elizabeth Graves from East Templeton; beloved husband of the late Rudell Louise Graves; father of John C. Graves, and James C. Graves and his wife Kelly; and grandfather of Chris Graves and Cole Graves.
He is also survived by a cousin Tom and his wife Sally. John was a former member of the Fairfax Host Lions Club. The family will receive friends at the Everly Funeral Home, 10565 Main Street in Fairfax on Thursday, July 25 from 5 p.m. until time of his Celebration Service at 7 p.m.
Inurnment will be at a later date. In lieu of flowers, memorial contributions may be made to a charity of the donor's choice.