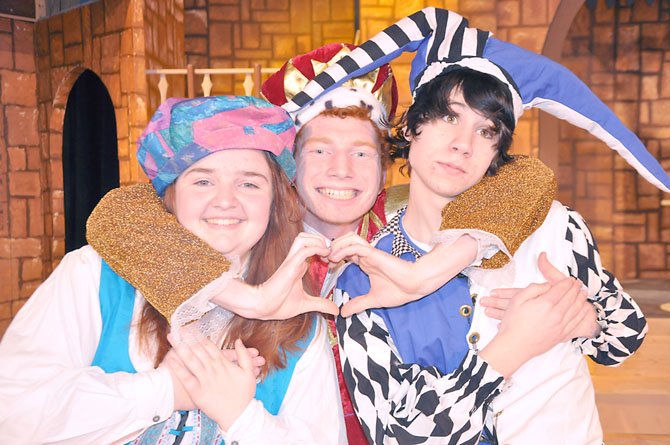 Once upon a time, in a kingdom far, far away, no one was getting any younger waiting around for a princess to arrive suitable enough for marriage to Prince Dauntless. But what could that be splashing around in the moat? A fish? A frog? Or maybe, as they would soon discover, a welcome change. "Once Upon a Mattress" is the fantastically twisted tale of the princess and the pea where the king is silent, the prince is infantile, and the princess is a "moat swimmer." With music and lyrics written by Mary Rodgers and Marshall Barer, this lively musical will be sure to remind you what love and being a true princess is all about.
Kristen Washington (Queen Aggravain) had the audience captivated with her first uttered demands. Washington's voice was as commanding, regal and poised as her character. Even while giving princesses "the bird" she had a regal, sophisticated air about her, which only added to her humor and appeal. Washington's chemistry with other characters such as Dauntless (Alex Siegel) and the wizard (Joey Arzeno) was spot on, adding immensely to her performance and demonstrating to the audience her strong sense of character and understanding of role.
In terms of chemistry however, very few groups matched that of Dauntless (Alex Siegal) and King Sextimus (Brendan McAlevy). A bond beyond words was demonstrated between the two as the audience lapped up every second of their imaginary sword fight and informative "birds and bees" talk. When paired together the duo electrified the stage with their vivacious gestures and strong sense of character. Though both lacked the commanding air the queen proudly embodied, there is no question that they commanded the stage time and time again.
Speaking of commanding the stage, Dauntless was not the only one to fall for: Abigail Rozmajzl had the crowd roaring with laughter throughout her spirited performance. Abigail's energy was almost contagious as she interacted with other characters on stage, especially during musical numbers "Shy" and "Song of Love." Her physicality and vocal inflection truly won the hearts of everyone in the audience and everyone on stage…
And it seems that this talent and energy runs in the family, as the jester (Jacob Rozmajzl) also proved to be a crowd favorite with his athletic abilities, smooth vocals, and clever humor, which beautifully contrasted that of his sister. Jacob's vocal talent and technique were prominent during his performance of "Very Soft Shoes." His inflection and choices throughout the song were widely received, as were his agile, athletic moves. Jacob's presence and comedic style added to the performance immensely as he brought a needed balance to the other characters on stage.
Paul VI Catholic High School surely packed enough colorful characters and energy to fill more than 20 mattresses, much less one. "Once Upon a Mattress" is certainly entertainment for the sensitive elite, the sensitive asleep, and anyone who enjoys a cheesy "happily ever after."