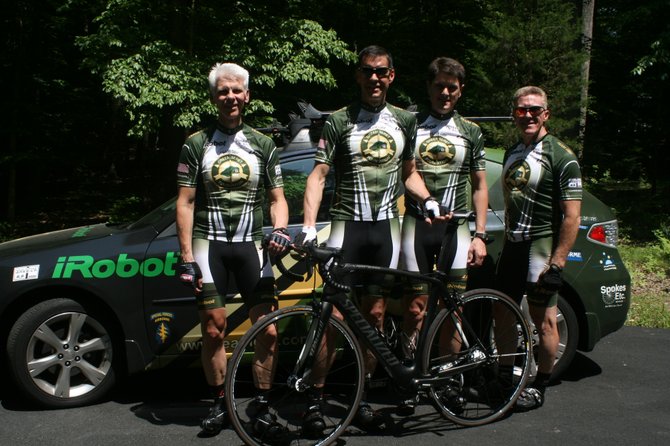 "All funding raised by the team will go directly to The Green Beret Foundation and so directly to the soldiers."—David Viens
Setting off from Oceanside, Calif. on Saturday, June 15, three Burke residents and one Clifton man will take part in the world's toughest bicycle race in the hope of raising awareness and much needed funds for the Green Beret Foundation. With the finish line in Annapolis, Md. the team will cycle three thousand miles over a period of six days. "Looking at our capabilities and being respectful to the organization and our sponsors, we think six days is a good time," said David Viens, a team member. "This gives us an average of 20 miles per hour," he said.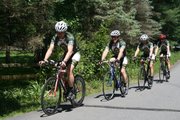 The Green Beret Special Forces fight across the world in places like Afghanistan and Iraq, and a lot of them come back wounded or scarred by their mission. Team members David Viens, Gino Elsea, Dave Johnson and Andrew Schaaf are well aware of what these men and women face in their lives as they have all served in the military.

The team will ride around the clock, but will do so in shifts, with each team member covering about 750 miles each day. They will race against 15 other four-member teams. None of the team members have competed in the race before, but all are seasoned cyclists, said Viens. They also have a professional trainer, Susan Hefler, who also successfully trained the solo winner of the 2012 Race Across America Powered by Trane.
"All funding raised by the team will go directly to The Green Beret Foundation and so directly to the soldiers," said Viens. "None of the proceeds are used for the team." The funds provide financial support, resources and other care-giving assistance, while also helping the children of those killed in action with scholarships. Run by just three full time employees who have all been impacted, in some way or another, by loss or injury, the foundation is a national organization.
"We have already raised $40,000," said Viens, "but we are hoping to at least double that."
Sponsorship is an important element for the team, with iRobot being their primary sponsor. While the public will know iRobot for their cleaning robots, they also do a lot of work in the defense sector, creating unmanned ground vehicles that are used during military operations. "A lot of soldiers are alive today because of iRobot," said Viens. Other sponsors of the team include Spokes etc., a locally owned bike store that has provided the team with bikes and bike parts.
Once the race gets underway, each rider can be tracked by live satellite on every part of the race. Just go to the teams website at http://www.teamgbf.com/team-gbf, and while you are there, make sure to make a donation.