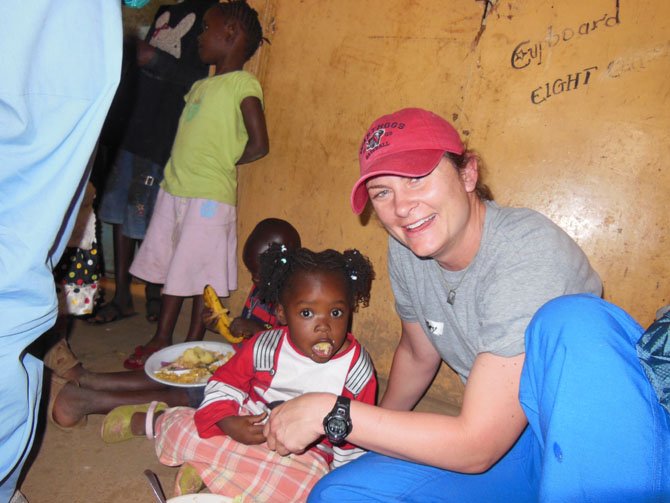 College is a time of figuring out what you want to do with the rest of your life.
For nursing student Kiley Scott, she found her passion in public health after providing health care to individuals living in the slums of Korogocho and Baba Dogo in Nairobi, Kenya through Chamberlain College of Nursing Arlington campus' International Nursing Service Project.
The International Nursing Service Project is a two-to three -week service project that can be done in place of the school's required multiculturalism and community health courses.
This year's trip ran from April 27 until May 12.
"It was a definite change in culture. When we arrived in Nairobi at 8 a.m., it was crazy traffic. There were lots of people walking to work and other places. It actually reminded me a lot of D.C," she said.
According to Scott, this trip to Kenya showed her the great need for public health and medical access in the country. When they held the clinics in Korogocho and Baba Dogo, she was somewhat surprised by the lines of 100 or more people waiting for medical care.
The students also conducted home visits for some of the residents who were unable to make it to the clinics.
During the home visits, the students met a man who needed $500 to get an operation on his leg. Scott and her classmates pooled their resources and raised the money so that the man could have the operation.
"In the U.S., we would just go have the operation, but in Kenya the people just didn't have the resources to get the care they needed," she said.
In addition to the clinics and home visits, the students also went to visit a leper colony.
Providing the residents of Nairobi with health care also helped Scott confirm that public health was the right career path for her.
"As a student nurse, you are always thinking about whether you want to work in the ER or go into another field. This trip helped me to see that public health is my passion because there were so many people who needed help in Kenya," she said.
Although Scott has traveled outside of the U.S. during her time in the military in Iraq, she said that going to Kenya was different because it helped her to be grateful for the simply things.
"When you take a step back, you realize that it's not that bad because there are other people in the world. I would see these kids in Kenya and they didn't know what other things could be offered to them. But they were happy," she said.
Not only did she learn a lot about medicine while visiting Kenya, she also was able to enjoy some great food. In particular, she loved the Chi tea.
"Personally, I loved all the food. The fruit, pineapples and watermelon, was really fresh," she said.
When she isn't busy studying, Scott enjoys hiking, running and reading books not related to nursing. One of her favorite authors is James Patterson.
After she graduates in December, she plans to go back with the International Nursing Service Project and provide medical care to low income citizens of Kenya.
"If people ever have a chance to go volunteer in a third world country — it doesn't have to be medical — it is a very fulfilling thing to do," she said.