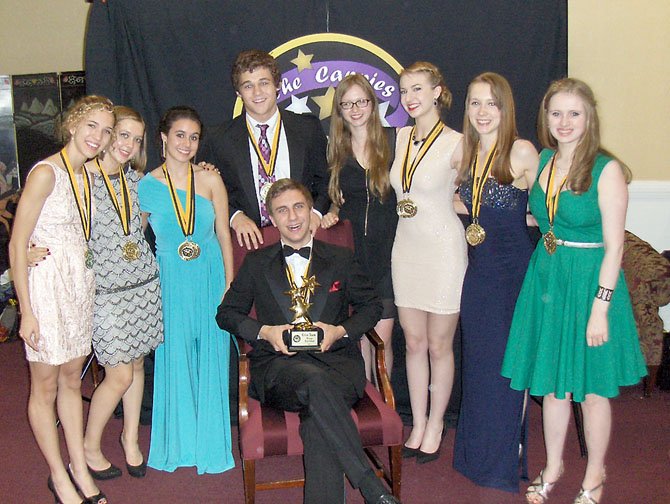 Local schools brought home half a dozen awards among them at the 14th annual Cappies Gala, Sunday night, June 9, at the Kennedy Center in Washington, D.C. McLean High won three; Langley, two; and Madeira, one.
"My sister and I spent a lot of Sunday mornings at our computers, writing reviews and asking each other, 'What's another word for excellent?'"

—Madelyn Paquette, McLean High School
Robinson Secondary captured the Best Musical honor for "Hairspray," and Madison won the Best Play award for "Lend Me a Tenor."
McLean High
McLean students received three out of the four critics awards. Victorious was the Critics Team, as were sisters Emma and Madelyn Paquette for Rising Critic and Graduating Critic, respectively.
The nine-person critics team won this honor for the second time. "It's great," said Max Johnson. "Everyone worked really hard. We used strategies in editing and writing, and we saw the most shows out of any team."
Teammate Siena Richardson called it "a great way to celebrate high school theater and the performing arts in general. Theater doesn't get enough love in high school."
Accepting the award for Graduating Critic, senior Madelyn Paquette thanked "everyone involved in theater. Without you, I wouldn't have this outlet for all my really bad puns." Afterward, she said, "Cappies is such an incredible program and it's always wonderful to get your reviews published."
She said writing critical reviews also helps the students grow both as performers and writers. Said Madelyn: "My sister and I spent a lot of Sunday mornings at our computers, writing reviews and asking each other, 'What's another word for excellent?'"
Sophomore Emma thanked all the schools "for letting me see the work they poured their hearts and souls into." She's been in the critics program two years and, she said, "It gives everybody an opportunity to showcase their skills, whether technical, writing or acting, and it's an honor to win this award."
Langley High
Langley won Ensemble in a Play and Returning Critic for "The Life and Adventures of Nicholas Nickleby." The ensemble portrayed The Crummles Theatrical Troupe. "We performed a play within the play," said junior Kathleen Welch.
"We were the comic relief," added classmate Vanessa Strahan. "There were seven altogether in the ensemble and we did lots of weird, ritual things when we were onstage." Junior Rachel Mayman said, "We were very overdramatic and over-the-top, and we made weird looks at each other."
Sophomore Andrew Rhee was "overjoyed" to win a Cappie. "This was my last show with this school and these wonderful people because I'm moving to Vienna, Austria," he said. "So this was an unforgettable experience."
Taking home a starry statuette for Returning Critic was junior Jamie Joeyen-Waldorf. "I'm so thankful for this program," she said. "It's taught me to be a better writer and actor. The people I've met in this area have so much talent, and I wouldn't have seen it if I wasn't in this program."
Madeira School
Gabrielle Bullard of The Madeira School won the Cappie award for Female Dancer for her school's production of "The Wizard of Oz," but she wasn't at the Cappies Gala to receive it.