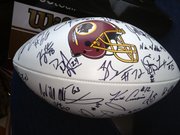 Remembrance Cabaret for Reema
Centreville — The annual Remembrance Cabaret for Westfield High grad and Virginia Tech victim Reema Samaha will be held this Saturday, June 15, at 7 p.m. at Westfield High. (It actually begins at 6 p.m. with a silent auction and bake sale that continue during intermission).
It's an evening filled with singing, dancing, comedy sketches and fun. Silent-auction items include Nationals-Phillies tickets, jewelry, artwork and a four-person golf outing. Admission is free, but donations may be made to The Reema J. Samaha Memorial Scholarship Fund or to Angel Fund.
Volunteer Charged with Embezzlement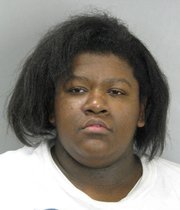 Fairfax County police have charged a 25-year-old Chantilly woman working as a volunteer at "Celebrate Fairfax" with embezzlement. She is Varrie Butler of Katling Square. Police say she was tending a cash box at one of the entrance gates to the event on Sunday, June 9, between noon and 5 p.m., when management became suspicious and contacted police.
According to police, an investigation revealed that Butler had allegedly taken money from the proceeds of people who'd purchased tickets and hid it on her person. She cooperated with the authorities and all the money was recovered. Following her arrest, she was taken to the Adult Detention Center.
Anyone with information is asked to contact Crime solvers at 1-866-411-TIPS/8477, e-mail www.fairfaxcrimesolvers.org, text "TIP187" plus a message to CRIMES/274637 or call police at 703-691-2131.
Woman Robbed at Gunpoint
Fairfax County police are looking for a man who robbed a woman at gunpoint last week in the Old Centreville Crossing Shopping Center. The incident occurred last Thursday, June 6, around 4:30 p.m. in the 13800 block of Braddock Road in Centreville.
Police say a 44-year-old woman had just left a coffee shop there and noticed a man standing at the passenger side of the car. After she entered her car, he pulled a gun and demanded that she open the door and give him her purse. She screamed, and he grabbed the purse and fled.
The suspect is described as white, in his 20s, with a scruffy, reddish beard. He was about 5 feet 11 inches tall and 160-180 pounds. He wore a black shirt and gray sweatpants. Anyone with information is asked to contact Crime solvers at 1-866-411-TIPS/8477, e-mail www.fairfaxcrimesolvers.org, text "TIP187" plus a message to CRIMES/274637 or call police at 703-691-2131.
Man Charged in Deck Fire
Fairfax County Fire and Rescue Department fire investigators charged Jonathan David Riordan, 41, of the 14500 block of Eddy Court, Centreville, with carelessly damaging property by fire and unauthorized release of a hazardous material.
They say two, separate, outside fires ignited Monday, June 10, after a gasoline can on fire was thrown from a nearby deck. The damage to the deck is estimated at $200. Riordan's charges are both misdemeanors.
Jewelry Theft Is Investigated
Fairfax County police are investigating a smash-and-grab theft at the Kay Jewelers at Fair Oaks Mall. Police responded there Monday, June 10, shortly before 8 p.m., for a report of a grand larceny.
During the preliminary investigation, officers determined that three men entered the store, smashed a glass case and removed an undisclosed amount of jewelry. There were customers in the store at the time, but no one was injured.
All three suspects were described as black and 25-30 years old. One was between 5 feet 5 inches and 5 feet 8 inches, with a medium build and wearing a blue, hooded sweatshirt. The other two men were between 5 feet 10 inches and 6 feet 2 inches; one wore a dark, hooded sweatshirt and the other wore a white T-shirt.
Anyone with information is asked to contact Crime solvers at 1-866-411-TIPS/8477, e-mail www.fairfaxcrimesolvers.org, text "TIP187" plus a message to CRIMES/274637 or call police at 703-691-2131.
WFCCA Land-Use Committee
The next meeting of the West Fairfax County Citizens Association (WFCCA) Land-Use Committee is Tuesday, June 18, at 7 p.m. It's in the Sully District Governmental Center, 4900 Stonecroft Blvd., in Chantilly.
Free Carseat Inspections
Certified technicians from the Sully District Police Station will perform free, child safety carseat inspections Thursday, June 20, from 5-8:30 p.m., at the station, 4900 Stonecroft Blvd. in Chantilly. No appointment is necessary. But residents should install the child safety seats themselves so technicians may properly inspect and adjust them, as needed.
However, because of time constraints, only the first 35 vehicles arriving on each date will be inspected. That way, inspectors may have enough time to properly instruct the caregiver on the correct use of the child seat. Call 703-814-7000, ext. 5140, to confirm dates and times.
Food Donations for WFCM
Western Fairfax Christian Ministries' food pantry urgently needs donations of oil, canned fruit, rice (2-lb. bags), peanut butter, canned tuna and meat, macaroni and cheese, sugar, fruit juice, Hamburger Helper, and pancake mix and syrup. Also needed are toothpaste, deodorant and diapers, sizes 5 and 6. Bring all items to WFCM'S new food-pantry location, weekdays, 9 a.m.-1:30 p.m., at 13888 Metrotech Drive, near Papa John's Pizza and Kumon Learning Center, in Chantilly's Sully Place Shopping Center.
Summer Food Drives Needed
Summer is when WFCM is most in need of food donations. Children are home from school and need three meals a day, but many come from homes where both money and food are scarce. So WFCM is hoping local residents and businesses will hold summer food drives to help it restock its food pantry so it can provide food to local families in need. Anyone interested in doing so should contact Terry Kelly at tkelly@wfcmva.org.
Meals on Wheels Volunteers
Fairfax County needs Meals on Wheels drivers in Chantilly and group Meals on Wheels coordinators in both Chantilly and Fairfax. Contact Volunteer Solutions at 703-324-5406, TTY 711, VolunteerSolutions@fairfaxcounty.gov or visit www.fairfaxcounty.gov/dfs/olderadultservices/volunteer-solutions.htm.
Give Caregivers a Break
Fairfax County needs Respite Care volunteers throughout the county to give family caregivers of a frail older adult a well-deserved break. Volunteers visit and oversee the safety of the older adult for a few hours each month. Volunteers are matched with families in or near their own neighborhoods. Support and training is provided. Contact Kristin Martin at 703-324-7577, TTY 711, or Kristin.Martin@fairfaxcounty.gov.
Women's Self Defense Program
The Fairfax County Law Enforcement Foundation is partnering with the Fairfax County Police Department to offer the Women's Self Defense Training program. It's based on the SAFE program formerly provided by the Police Department, but now being taught by C&J Security Corp.

The program is a two-day class that will meet on consecutive Tuesday and Thursday evenings from 6:15-9:30 p.m. It's currently offered free and all class materials are included. Program funding is provided through the Fairfax County Law Enforcement Foundation.
The course is offered to females, age 13 and older. A female guardian must accompany girls 13-18. No men other than the instructors are permitted to be present during a class. For more information, call 703-246-7806, e-mail WSD@fairfaxfoundation.org or go to www.fairfaxfoundation.org.