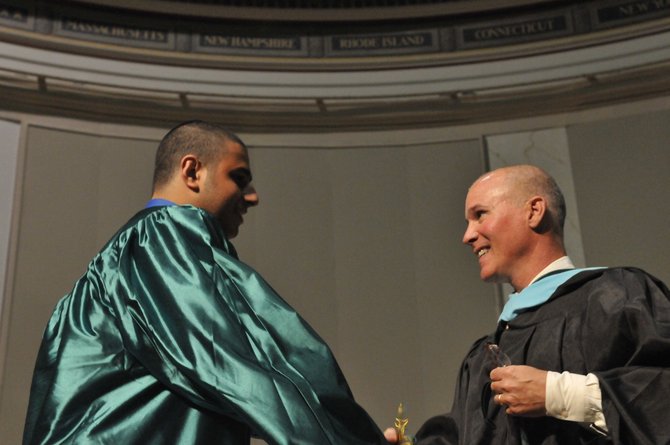 Photo Gallery
Photo Gallery Langley High School Graduation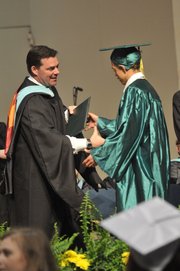 Langley High School seniors belatedly graduated on June 13.
Click Photo for Flash
The 469 graduates in Langley High School's Class of 2013 had to wait before they could walk across the stage in Constitution Hall to receive their long coveted diplomas. On the Thursday morning of June 13, when potential torrential rainstorms moved swiftly in the Washington D.C. area, a tardy bus delayed the ceremonies 16 minutes.
The Langley band, however, would eventually play Pomp and Circumstance as the Saxons walked down the aisle one last time as seniors. There would be no two separate entrances due to transportation difficulties, because those who made it on time waited for the one bus that was split up from the group but not left behind. In this way, it made sense that the Class of 2013 defined themselves as "selfless."
In fact their speaker, Ambassador Henry Crumpton's speech was all about selflessness and service. The man who was inspired to join the CIA after seeing the James Bond movie "Thunderbolt," implored the graduating Saxons to "know themselves before you can achieve true virtue." Crumpton also quoted the Greek philosopher Heraclitus when he told the graduates "a man's character is his fate."
Crumpton, also the former head of the CIA's National Resources Division and the leader of the United States' response to the 9/11 Terrorist Attacks, told his audience to forever continue selfless service throughout their lives to their nation, community and family. "You make a living by what you get," Crumpton ended his address, adding, "you make a life by what you give."
Principle Matthew Ragone awarded Margaret Rosie Mahoney and Zach Dailey the Principal's Service Awards and Senior class President Natalie Rasmus won the Principal's Award. Cameron Ayoub was given the Faculty Award. As promised by Mr. Ragone, there was no rain after the ceremony.