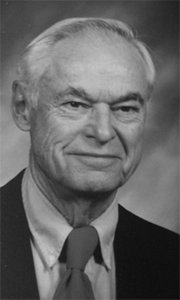 Henley Lyman Guild died on Friday, June 7, 2013. His family is thankful for his long life and for many enjoyable times spent together with him, and especially for recent precious moments in his company.
He was born in Ann Arbor in 1922, the son of Florence White Guild and Dr. Stacy Rufus Guild. He was raised in Baltimore where he attended Baltimore City College High School and Johns Hopkins University, Class of 1947. In a college career that spanned the war years, Henley was an active and involved student leader and a gifted and celebrated athlete. He was captain of his R.O.T.C. company, chairman of the Student Activities Council, and a member of Omicron Delta Kappa leadership honor society. He was the 1943 recipient of the Alexander K. Barton Cup at Hopkins in recognition of his strong character, high ideals, and effective moral leadership. Henley was a standout midfielder and frequent high scorer for the Blue Jay lacrosse teams. The U.S. Intercollegiate Lacrosse Association selected Henley to its All-America Lacrosse team in 1942, 1943, and again in 1947 when he returned to school following three years of military service.
Henley and his wife Virginia were among the first residents of the Seminary Valley neighborhood in Alexandria where they have lived happily for 57 years and where they have had caring and attentive neighbors. In life, Henley was selfless and devoted as a husband and father. He was instrumental in organizing the Colonial Swim League, a developmental program for young swimmers for which he particularly wished to be remembered. He remained actively involved in his children's various activities throughout their lives. Henley had a lifelong interest in personal health and the benefits of exercise. In retirement he led a class in aquatic fitness at the Chinquapin Park Recreation Center for 25 years, improving the well-being of his many dedicated participants.
Henley and Virginia have shared a love of gardening and spent many summer hours tending tomatoes at the Chinquapin gardens. They helped create the Memorial Garden and Zabriskie Landscape at Immanuel-Church-on-the-Hill and together they transformed their own ordinary, unimproved suburban backyard into a landscape of year-round beauty.
Henley was preceded in death by his parents; his sister, Colonel Elizabeth Guild; his brothers, Tom, Philip, and Walter; and his son Stephen Barker Guild. In addition to his wife, Virginia, he is survived by his daughter, Susan Braun and her husband Herbert Braun of Richmond; his son, Henley, Jr. and his wife, Debra, also of Richmond; and his daughter-in-law, Monica Lange, of Rocky Hill, N.J. He is grandfather to Christian Braun, Kevin Henley Braun, Elli Kale, Sophia Guild, Molly Guild, and Henley Lyman Guild III; and great-grandfather to Carly Braun and Wilson Henley Braun.
A private service will take place at the Memorial Garden of Immanuel Church-on-the-Hill.
Those who wish to remember Henley are asked to consider a gift to the Garden Club of Virginia directed to the Restoration Committee, Kent-Valentine House, 12 East Franklin Street, Richmond, VA 23219. http://www.gcvirginia.org/contribute.cfm