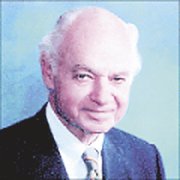 On June 5, 2013, Joseph R. Gunn, III, (Joe), 84, died at Suburban Hospital in Bethesd. Mr. Gunn was a retired economist and senior vice president with Nathan Associates, an international economic consulting firm, based in Washington, D.C.
Mr. Gunn and his wife lived in Potomac, since he joined Nathan Associates in 1967 and was with the firm until his death. Most recently he served as a retired senior vice president of the firm, and director and treasurer of the Robert R. Nathan Memorial Foundation. He served on the Nathan Associates board of directors since 1986 and was chairman from 2001-2008. While at Nathan Associates, Mr. Gunn directed many of the firm's activities, and frequently served as an expert economist in matters in litigation or before federal regulatory agencies. He had extensive domestic and international experience in development economics, industrial organization, international trade, and petroleum economics. He had private corporate as well as consulting experience. In addition to his resident service as an economic advisor in Afghanistan, he spent two years as a resident senior economic advisor in Thailand.
He retired in 1994 as a senior vice president at Nathan and Associates, but continued to work for the firm as an economic expert in litigation cases and before federal regulatory agencies. He also remained active in overseas consulting, traveling to Russia as part of a World Bank team of U.S. and European antitrust economists and attorneys to advise regional antimonopoly committees.
From 1961-1966, Mr. Gunn was employed by the Asia Foundation in San Francisco, Calif., to serve as economic analyst and adviser to the Minister of Commerce of the Royal Government of Afghanistan. In that capacity, he had primary responsibility for the development of Afghanistan's foreign trade statistics and the analysis of the country's trade and payments flows and balances. He was instrumental in creating the Afghan Insurance Company, the first insurance company in the country, and in the development of modern processing equipment for use in Afghanistan's dried fruit and nut export industry.
Between 1954 and 1961, Mr. Gunn was engaged as an economic analyst and statistician with Standard Oil of California in San Francisco. He was primarily concerned with examining petroleum product markets, forecasting general economic business activity, and analyzing global energy balances and flows.
Mr. Gunn spoke Afghan Dari and Thai, and had professional expertise in the economies of Afghanistan, Argentina, Bolivia, Guam, Egypt, Jamaica, Kenya, Malaysia, Mexico, Paraguay, Sri Lanka, and Thailand.
Mr. Gunn was a member of the Cosmos Club, and served as president from 2005-2006; he was a member Kenwood Golf and Country Club; the American Economic Association, the National Association of Business Economists, the National Economists' Club, The Washington International Trade Association and the Asia Society. Mr. Gunn lectured on economic development, multinational trade, and intraregional trade settlements at Oxford University. He was an invaluable source for "The Best Made Plans: Robert R. Nathan and 20th Century Liberalism," a biography of Robert Nathan, the founder of Nathan and Associates, to be published this summer. He is a member of St. Francis Episcopal Church, Potomac.
Mr. Gunn was born on Nov. 28, 1928, in Ross, Calif. In 1947, he graduated from Tamalpais High School, Mill Valley, Calif. He went on to the University California at Berkeley where he earned a B.S. in business administration in 1954 and a master's in economics in 1958. He was predeceased by his father, Joseph R. Gunn, Jr.; mother, Melvine Longley Gunn, and grandson, David Lawrence Gunn Shirley.
Mr. Gunn is survived by his wife of 62 years, Marie Thurlow Gunn, Potomac; Dana Gunn Winslow, daughter and Peter H. Winslow, son-in-law, Washington, D.C.; Anita Gunn Shirley, daughter and Larry E. Shirley, Jr., son-in-law, Chapel Hill, N.C.; Janice Gunn Smeallie, daughter and Shawn H. Smeallie, son-in-law, Alexandria, Va. Grandchildren: Christopher Gunn Shirley, Berkeley, Calif.; Marie Smeallie, James Smeallie, Eleanor Smeallie, and Catherine Smeallie, all of Alexandria, Va.