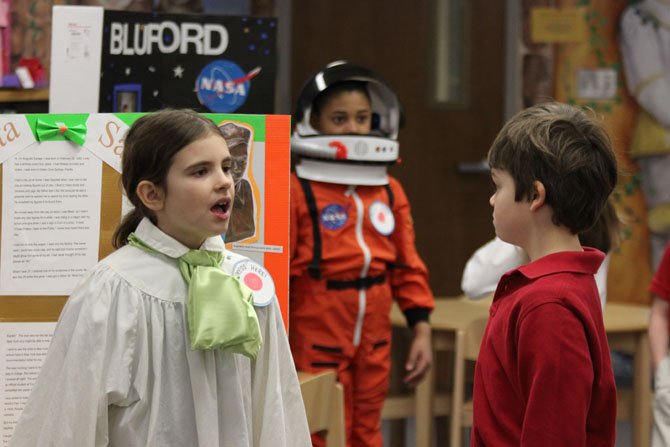 Thirty-six prominent historical African Americans, including Frederick Douglas, Phyllis Wheatley, Augusta Savage, and Jesse Owens appeared at Washington Episcopal School recently, as the third grade class portrayed them in their annual Black Facts Museum. Each student chose an African American who made a significant contribution to the country. Their project involved researching their subject, creating a tri-fold presentation board, and delivering a memorized speech to attendees in their "museum" during three sessions.
"I liked finding the costume for being Augusta Savage," said Giovanna Massaro, age 9, who portrayed the sculptor. "I want to be a librarian when I grow up so I enjoyed reading about her; I never knew about her until I started reading about her for my project."
"The third graders should be incredibly proud of their hard work," said third-grade teacher Dana Benedict. "The Black Facts Museum is their first major research project. They learned invaluable research skills, and had the opportunity to explore the accomplishments of influential African Americans throughout history."
Washington Episcopal School is an independent, coeducational day school in Bethesda, MD for students age 3 to grade 8. For more information, visit www.w-e-s.org.