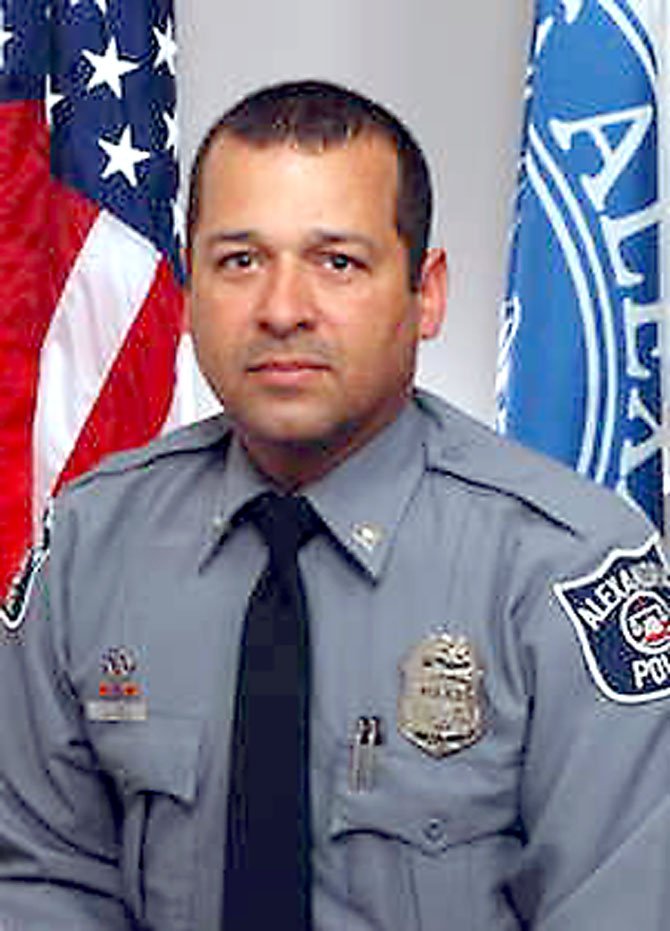 Alexandria — While Alexandria Police Officer Peter Laboy is fighting for his life at Medstar Washington Hospital Center, people who have heard about his plight are offering prayers and support from around the block to as far away as Canada. Laboy, a 17-year veteran of the police department, was shot in the head on Feb. 27, while on a traffic stop in the Old Town area of Alexandria resulting in catastrophic traumatic brain injury.
Married with children, Laboy is well known for his devotion to his family. "He's an outstanding family man. He adores his kids and wife," former Alexandria Police Chief David Baker said.
"I can tell you, with all my heart, and I've known him a long time, he had eyes for nobody but [his wife] Suzanne. She's just an amazing rock. She is the world to him and so are his children. He is fighting to stay alive for his family. He is not a quitter," said Lt. Ed Milner of the Alexandria Police Department.
Sgt. Brian Thompson has known Laboy since 1996 and has been his supervisor for the past three years. "Everybody loves him. He's the kind of guy people remember. He is an energetic guy who wants to do his job. He's always the first to volunteer for anything," Thompson said.
"He's a very involved officer. He not only does what is required, he does more. You can always count on Peter to be there in a supportive role. He's an active, engaged, and involved officer who cares about the city. Peter volunteers for a lot of things. I know he is engaged in the city as a private person and as a police officer as well," Baker added.
Alexandria Sheriff Dana Lawhorne worked with Laboy back in the days when Lawhorne served on the Alexandria Police Department. Like everyone else, Lawhorne and his staff were devastated by the news of Laboy's serious injury but remain hopeful for a miraculous recovery. "He has always been committed to serving the public and to his mission as a law enforcement officer," Lawhorne said.
Those who are not personally acquainted with Laboy are equally impacted by what has happened to him. Charles Flinn III, an Alexandria resident and retired Prince George's County fire captain with a total of 34 years of service in public safety, said: "It goes to show how dangerous being a policeman is. It is really sad, also. I hope the police officer recovers. What was so bad that it caused him [the suspect] to shoot this police officer? It's a real tragedy."
John Porter, retired principal of T.C. Williams High School, worked many events with Laboy. "He's just a wonderful person, a good family man, and a very dedicated person. He's one of these people who go out of the way to help people. Peter was always very professional, caring, and concerned about making sure individuals understood what was right and what was wrong. We're all hoping and praying it will work out in all the ways we want it to work out. It's so serious and so senseless," Porter said.
Since the age of 2, Laboy always wanted to be a cop. "He had every door open to be anything he wanted, but he wanted to be a police officer. It was a career to him. He has the compassion, great common sense, good judgment, and uses great discretion," Milner said.
"Having served as Peter's sergeant many years ago, I know how strong he is. He is a fighter who perseveres and overcomes challenges. He is now facing the biggest challenge of his life, and he is making incredible progress. He is loved by so many, and he knows it. He will not give up," said Hassan Aden, chief of the Greenville Police Department in Greenville, N.C., and formerly a deputy chief in the Alexandria Police Department where he served in the department for 25 years.
"Officer Laboy has many friends on our department. A number of my officers attended the Academy with him years ago and, of course, all of the area motor squads are very close friends with each other. Several of our motor squad officers worked traffic in Alexandria for quite awhile to support controlling the area around where the shooting occurred. I offered my support to Chief Cook in any way we could possibly assist," Arlington County Police Chief Douglas Scott said.
Burke Brownfeld has known Laboy since 1998 when he first volunteered with the department. In later years, he joined the force. Brownfeld summed up the essence of Laboy: "He is truly a kind, good, and positive person. Beyond the image of the motorcycle and the uniform and the badge is a truly wonderful person named Peter Laboy. I think of Peter like I would my own brother."
Karen L. Bune is a freelance writer; she serves as an adjunct professor at George Mason and Marymount universities.