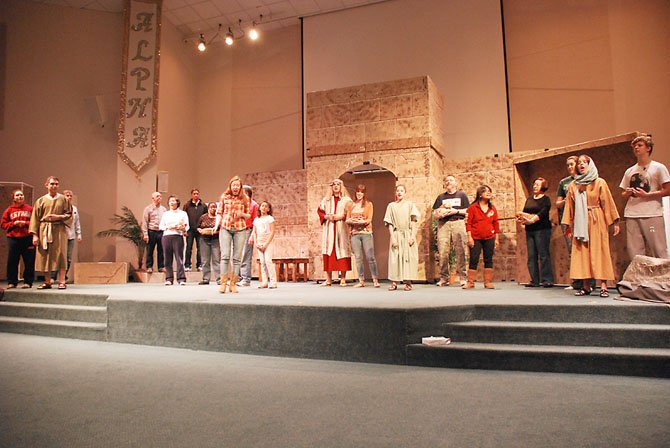 There is no such thing as a lesser miracle. Less well known, perhaps, but a miracle nonetheless. Jesus walking on water or turning water into wine might well be some of the more popular stories in the Christian faith, but an amateur cast from the Jubilee Christian Center is putting on an original drama to highlight the belief that none of his miracles was any less powerful or life-changing.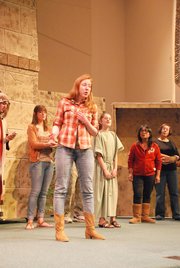 For the members of the cast, "it's a statement of faith," said producer-director Tim Buck. Buck is a Burke resident and an attorney by day. "This is what we believe in. It's why we're here," he continued, saying the goal is inviting others to come witness that faith.
Over two years ago Jubilee lead Pastor Bill Frasnelli approached Buck with the idea of telling the story of Jesus' life through the eyes of one of the shepherds from the Christmas story. Buck, an amateur actor himself, penned a 25-page script to that effect but production was delayed—until now.
Music to complement Buck's drama comes from an assortment of contemporary Christian artists, including Amy Grant, as well as original sound effects and mixing from John Dingle, Jubilee music and youth pastor. "Musically the people in this church are really talented," said Buck. "I've been blown away by that."
BUCK'S PLAY is based around the life of the shepherd Yacob and takes inspiration from scripture, but creatively fills in gaps to dramatize a compelling story arc. After first being hailed by a heavenly host to Jesus' birthplace, Yacob finds himself periodically crossing paths with the emerging religious leader. Despite some peer pressure to convince him otherwise, Yacob is reluctant to make the connection between Jesus and the allegedly divine child born in Bethlehem.
That is, until things get personal. By Buck's hand, Yacob is married to Sarah, the woman cursed with mysterious hemorrhaging who Luke describes in his eighth gospel chapter. Out of options and out of money, Sarah touches Jesus' robes out of desperation and is suddenly cured, recounts Luke.
While Jesus humbly and profoundly attributes Sarah's healing to her affirmation of faith rather than physical contact, there's no arguing that a miracle took place. One which finally wins over Yacob. "His reaction is a commitment to Christ," said Buck, "based on a recognition of who he is."
The action takes just five biblical verses to unfold, which is perhaps why this story doesn't garner as much attention as Jesus' more eye-popping feats. Regardless, the Jubilee cast will remind, it's still treated as a miraculous act. "It's a different way of portraying the message of Christ," said Jordan O'Berry, a junior at Christ Chapel Academy and Annandale resident who plays Yacob between the ages of 20 and 40.
"We read scripture sometimes, and we come across these stories, pass by them real fast," added Jubilee's college pastor, Tyler Hunt of Fairfax—cast as Jesus. "You just read she got healed, you move on."
"But there's a whole story that goes into that moment when she's healed," Hunt continued. "For her, that's a lifetime of pain and sorrow and misery, and in one moment she's healed. But man, for her that was earth shattering. And that's all the people Jesus interacted with—those moments were life-changing."
Just as life-changing as any miracle, no matter the popularity or amount of ink spent retelling.
"CHRIST ALONE" runs Friday, March 22, at 8 p.m., Saturday the 23rd and Sunday the 24th at 6 p.m. (child care for those under age 3 available Sunday). Jubilee Christian Center is located at 4650 Shirley Gate Road, Fairfax. 703-383-1170. Free.
More like this story