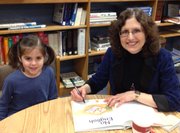 Clearview Elementary School in Herndon celebrated National Literacy Month, March 2013, by hosting children's books authors Jacqueline Jules and Sara Lewis Holmes.
Author of the Zapato Power series and "No English," a 2012 Forward National First Place Award winner, Jules visited with students in kindergarten through third grade on Friday, March 8. She gave a tailored presentation to each grade level, answered questions, autographed books and enjoyed lunch with a small group.
Holmes spent a day the following week with the older students in grades four through six Friday, March 15. Author of the 2012-13 Virginia Readers' Choice selection "Operation Yes," she taught children about the power of saying "yes" to their writing, to each other and to life.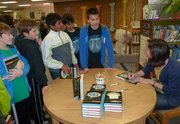 Rosemary Buley, a Clearview parent who runs the after-school writing club, said, "It's powerful for our children to meet real authors and to learn that proofreading and editing are integral parts of the writing process. Clearview parents are so fortunate to have the Clearview PTA, administration and teachers support visits by acclaimed authors."
For more information on authors Jacqueline Jules and Sara Lewis Holmes and their other published works, visit "http://www.saralewisholmes.com/