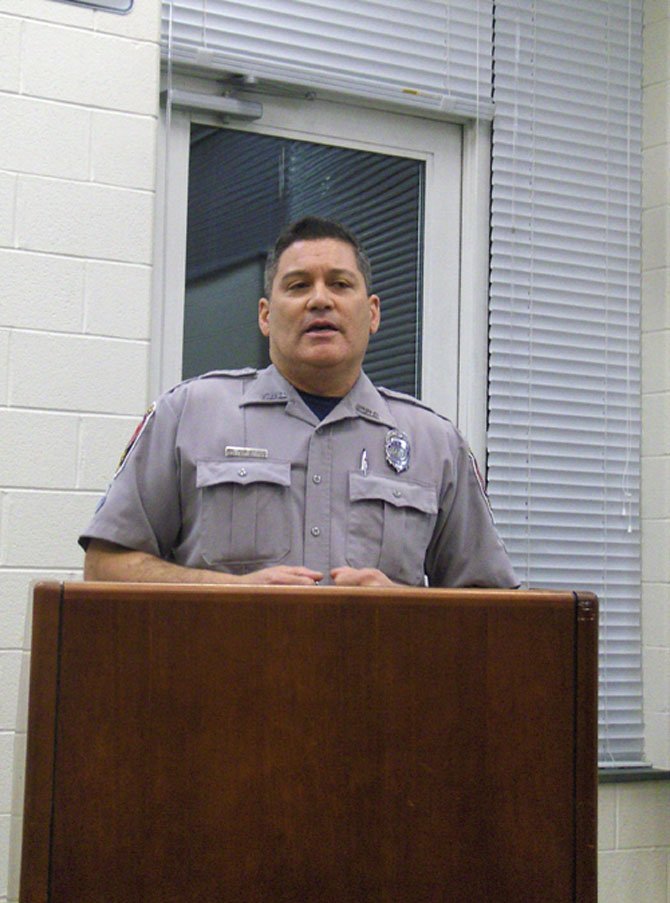 Authorities say children are safe in Fairfax County schools, but it requires continual vigilance to keep them that way. So the Sully District Police Station's Citizens Advisory Committee recently hosted a community meeting on the topic.
"School safety is important to me as a father of fifth- and 10th-graders, and as a police officer," said Capt. Ed O'Carroll, the station commander. "We have a great team of SROs [school resource officers], but we need the community as a partner. So if you see anything suspicious or out of the ordinary, say something."
"Our youth also have a part in this," he continued. "Our schools are safe; we identify issues early, recognize potential threats and act quickly and appropriately."
Westfield High SRO Lou Muñoz, a 21-year police officer, is in his eighth year at the school, and he told the audience how he does his job. Since it's such a large school with 2,800 students, he does his best to get to know as many students as possible.
"I coach JV baseball there and an informal basketball team of football players," he said. "It breaks down barriers and makes them more likely to come to me [for advice or information]."
Muñoz said the main problem at Westfield is thefts of iPhones, iPods and other valuables — "$400 and $500 items left unattended." He also said the use of social media — mostly Twitter — can lead to bullying, rumor-spreading, harassment and threats that often end up as a fight at school. So he often makes students get off of Twitter so they won't have to deal with the problems coming from it.
"Most things I can handle informally in my office," he said. "I don't want to get the students in trouble; but if they come back a second time, I will." He also handles assaults, plus incidents involving alcohol use and marijuana possession. And if he finds out about big parties involving 100 or so teens, he tries to stop them to prevent potential thefts from the homes hosting them.
"I talk to classes about gangs, driving, drugs and alcohol," said Muñoz. "I also talk to freshmen about sexting, bullying, cyberbullying and thefts and give them the tools to deal with these things."
Basically, he makes a connection with the students. "I work at school events, too, allowing me to become part of the school and make friends with parents, teachers, administrators, counselors and students," he said. "Because of it, they tell me things on a daily basis."
A big part of his job, said Muñoz, is "getting to know the kids and showing them respect so they'll want to comply [with the rules] and not disappoint me. And I'm a great counselor now from doing it all the time."
In addition, he sometimes gets information about teen crimes in the community from other teens. "I refer them to the police department and, often, I can identify the kids involved," he said.
Muñoz also advised parents how to keep their children safe. "Get involved," he said. "Know who they hang out with and where they live; find out about their parents. They're not bad kids; they're just teenagers. Ask your kids what's going on and keep plugging away. Don't rely on the school to do it for you."
To parents worried that their children might be using drugs, he said, "Teens have no privacy rights — search their room, cell phone and car. Get them drug-tested and stay on top of it."
Muñoz warned parents that teens are more social-media savvy than they are, but it can lead to trouble. So, he said, "They're up late at night communicating with their friends — maybe even sexting — so take away their technology from them at night."
Most of all, he said, "Don't ever give up; utilize all resources to keep your kids safe.' As one of 54 SROs countywide, he added, "SROs are on the front lines and see this stuff every day. So if you've got a question, ask them."
A father then asked Muñoz what he'd do to make the schools safer, if he had a blank check. "I'd have police officers in all the schools," he replied. "But with the money situation, it's not realistic."