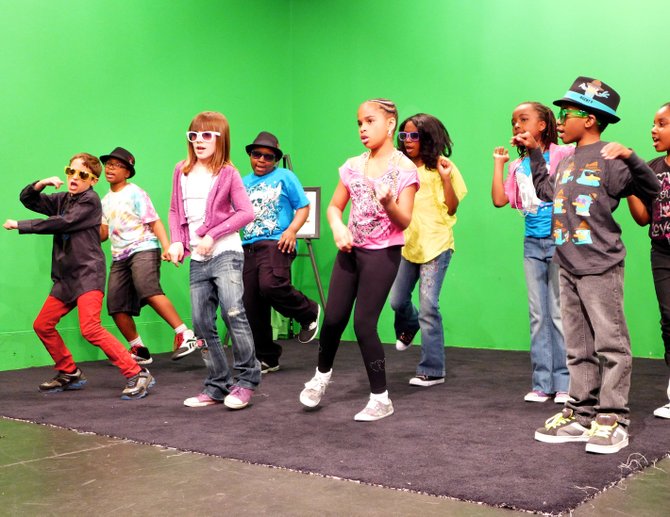 "Eating cotton candy makes my tummy ache.
Birthday party pizza all the slices I can take!
I got the junk food blues. I got the junk food blues.
Oh, I got the junk food blues and I don't know what to do."
To the tune of jazz, nine children from the Kidz MusiQ Club recorded a music video in Fairfax Sunday, April 14, to the song "Junk Food Blues." The music video is set for county-wide airing in July. The video is a collaboration between the Fairfax Public Access (FPA) show "Healthy Food Happy You" and Kidz MusiQ Club, and aims to educate children from Fairfax and surrounding areas about childhood obesity and the importance of healthy food through a light-hearted jazz song. According to the Virginia Department of Health, 15 percent of Fairfax County children ages 2 to 18 are overweight, and are in risk of weight-related diseases such as diabetes and hypertension. Currently, roughly one in three children in the United States are obese.
Jorge Mera, of Fairfax, produces the Fairfax Public Access show, "Health Food Happy You," which shows on Fairfax County-area local television with that same goal of promoting the benefits of healthy eating to county children. He said, "The 'Junk Food Blues' will be a great tool to motivate kids to eat healthier."
For the "Junk Food Blues" music video, Mera teamed up with Renee Collins Georges, creator/owner of Kidz MusiQ Club. Georges, who wrote "Junk Food Blues," is excited about her collaboration with FPA's TV show promoting healthy eating. "Teaming up with Mr. Mera and his show enables us to align and share our music, mission and programs with parents and kids in Fairfax and other coverage areas in Virginia. I hope that kids will find our music video to be entertaining, educational and fun," said Georges.
The music video is expected to be released in June on Fairfax Public Access Television.
For more information about the Fairfax Public Access show "Health Food Happy You," go to www.healthyfoodhappyyou.com and for information about KidZ MusiQ Club, go to www.kidzmusiqclub.com.