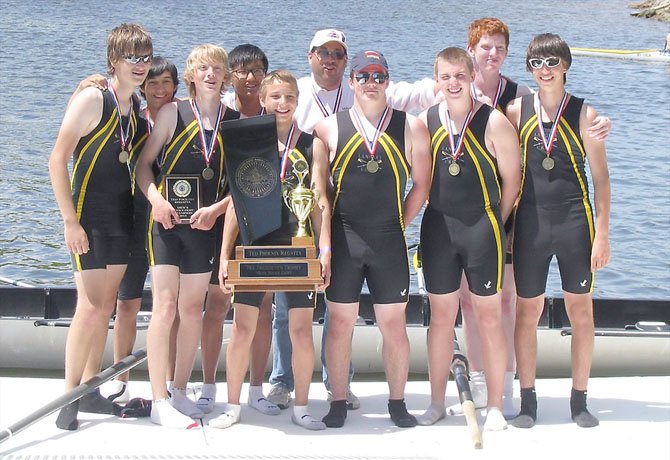 Langley's novice men's eight-seat boat won the Virginia State High School Crew Championship for their category on Saturday. The Ted Phoenix regatta is the state championship for all novice rowers. The class the men rowed in was one of the most competitive, with the list of contenders including Washington-Lee, Yorktown, Madison, Langley, TC Williams, Woodbridge, Hylton, West Potomac, Mt. Vernon, Oakton, Woodson, Robinson, Lake Braddock and Wakefield.
The men had to row twice: first a heat in the morning to qualify for finals and then in the final itself. Their morning heat was against some of the best boats in the state. With only two boats from each heat advancing, winning second in the heat was an accomplishment itself. With a strong start in the afternoon final, they took an early lead and were able to maintain it, winning the 1500 meter race (just shy of one mile) in 5 minutes .01 seconds.
The winning boat's rowers were: Wyatt Child, Laith Alsaif, Luke Bulkeley, Tony Lee, Sergei Stratos, Chris Rossberg, Patrick Muir, Tucker Grim, Justin Meeker. Their coach was Matt Fanny.