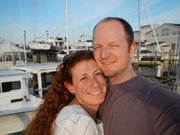 Mr. and Mrs. Robert Hollander of Clifton, are pleased to announce the engagement of their daughter, Aimee Michelle Hollander, to Andrew Joseph Czarniak.
Aimee earned a B.S. degree in biology from Virginia Tech and a Ph.D. in microbiology and immunology from Virginia Commonwealth University/Medical College of Virginia. She is a research fellow at the Food and Drug Administration. Aimee also is the District III Foundation Director for Alpha Delta Pi sorority.
Andrew, son of Chet and Terri Czarniak of Clifton, is a lieutenant in the U.S. Coast Guard and currently a staff engineer at the USCG's Marine Safety Center in Washington, D.C. A Coast Guard Academy graduate, he will begin a master's program this summer in mechanical/ocean engineering at the University of California at Berkeley.
Both Aimee and Andrew are 2001 graduates of Centreville High School. They met through friends at a NASCAR event at Richmond International Raceway. Their first date was sailing on the Chesapeake Bay.