Photo Gallery
Preparing for 7th Annual Runway Ready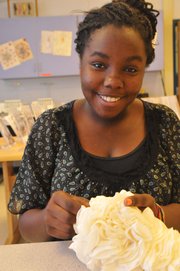 Students exhibit their various fashion designs for the annual West Potomac Falls fashion show.
Click Photo for Flash
Students in the West Potomac Academy fashion design program are busy this week making final decisions and preparations for the upcoming Runway Ready "Concept to Catwalk" fashion show on Friday, May 10.
Seven seniors will be showing their portfolio collections. The students include: Reanna Rousseau with the "Rousseau Collection," Rebecca Bansah with "Marilyn's Closet," "See the Sea" by Emily Blaszkiewicz, "Gossip Junkie" by Julie Swanson, "Belle Misere" by Jessica Moreno and Sydney Maniglia with her "Combat Corps" collection.
In addition to the students other featured industry designers are: Nam Nguyen, My Bougie Baby, Walish Gooshe and Speak Vintage. Guy Lambert of 95.5 WPGC and television host and winner of Cycle 8 of America's Next Top Model Jaslene Gonzalez will host the show in the Springbank Theater at 6500 Quander Road in Alexandria. Doors open at 5:45 p.m. on Friday, May 10. Show starts at 7 p.m. Tickets are $10. Advanced tickets may be purchase at 703-718-2656