Level Fitness at 7687 Macarthur Blvd., Cabin John, presented a family fitness event on Saturday, May 11.
Level offers such classes and activities as Aerial Yoga; Pilates (Pilates Mat, Pilates Reformer Class and Pilates Chair Class); Cycle/Spin Classes; Wellness Workshop and Fitness Assessments; Fir4Par (Golf Fitness); Nuero-muscular Exchange (NMX) method; Cardio Hip Hop for adults and children; Kid's moon bounce and games; Kid's Power Dance Classes; Movement for Fun, and Sports Circuit for Kids.
For more information, visit:
Photo Gallery
Fitness Club Hosts Fit Fair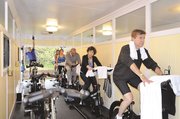 Click Photo for Flash
http://www.levelfitness.com/.
More like this story