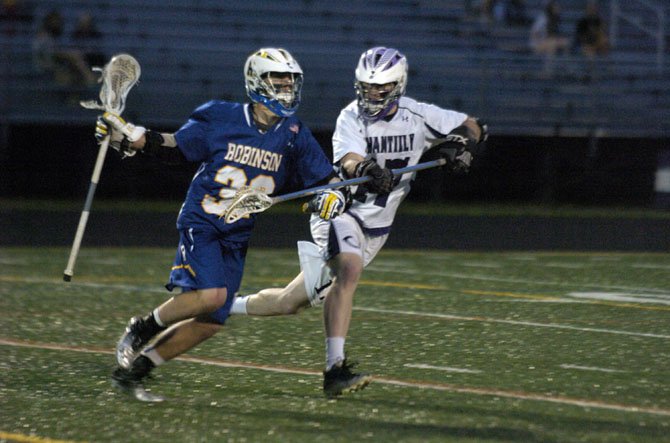 Chantilly — Chantilly senior Conrad Unterkofler woke up at 7 a.m. on May 11, ate breakfast, sat on the couch and thought about what needed to be done.
The previous night, the Chantilly boys' lacrosse team trailed Robinson 2-1 in the Concorde District championship game when play was suspended due to lightning with 14 seconds remaining in the second quarter. After a delay, the contest was postponed until 9 a.m. the next day.
"It's a little bit of a drag," Unterkofler said about finishing the championship game at 9 a.m., "but last night we were kind of out of it. I think it just gave us another chance to get prepared."
Facing a deficit, Chantilly coaches spoke with their team captain and first-team all-district midfielder Saturday morning.
"… [W]e took [Unterkofler] aside, asked him what he thought about what we did last night [and] he had the right thoughts," Chantilly head coach Kevin Broderick said. "He said our guys were a little nervous, we didn't run our offense. We asked him to step up and carry us. He wouldn't be selfish, but [we asked him] to really look for those opportunities and he did everything we asked him to."
Unterkofler scored four goals, including the game-winner in double overtime, and the Chargers defeated Robinson 6-5 to capture the Concorde District title on Saturday at Chantilly High School.
Unterkofler scored the Chargers' first three goals and found the net with 18 seconds remaining in the second overtime period.
"Conrad's the man," Broderick said.
It was Chantilly's fourth district title in the last six seasons and first since 2011.
"I'm very happy for the kids," Broderick said. "They worked hard. It was a great game."
Robinson led 4-3 entering the fourth quarter. Chantilly's Jonathan Popham tied the score with 10:53 remaining and Curtis Christian's goal with 6:47 left gave the Chargers a 5-4 lead. Robinson's Charlie Morrisette scored with 5:17 left in regulation and the game went to overtime tied at 5-all.
Morrisette and Connor Lloyd each scored two goals for Robinson.
Junior goalkeeper Nick Kondracki helped keep the Rams in the game with 23 saves.
"He had a great game," Robinson head coach Matt Curran said. "Nick wasn't a first-team all-district goalie, but he certainly looked like a first-team all-district goalie last night and this morning."
On May 14, Chantilly defeated Annandale 15-5 in the opening round of the Northern Region tournament, improving the Chargers' record to 16-1. Chantilly's lone loss came on March 28, an 8-5 defeat against Langley, which beat Chantilly in three of the last four AAA state championship games.
The Chargers will host Yorktown, the National District's No. 2 seed, at 7 p.m. today in the regional quarterfinals.
Chantilly attackman Mike Marson was named Concorde District Offensive Player of the Year, and defenseman Jake Dansey was named Defensive Player of the Year. Marson, Bill Leslie (attack), Unterkofler (midfield), Dansey (defense), Kevin Doherty (defense), Jason Park (LSM/SSM), Kevin Covino (LSM/SSM), Brendan Wallace (LSM/SSM) and Patrick Meehan (goalie) each earned first-team alldistrict honors for Chantilly.