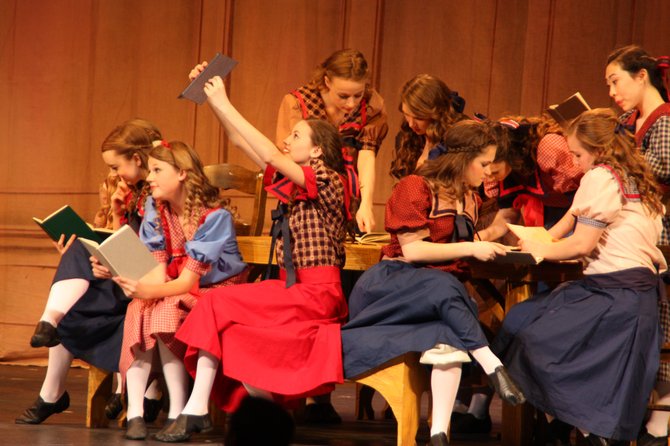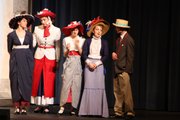 Colorful costumes, stunning vocals and intricate comedic timing were just a few key elements of the South County High School Theatre's production of "The Music Man," which packed the Dale S. Rumberger Auditorium May 3-4 and 10-11.
An affectionate acclamation to Smalltown, U.S.A. of a bygone era, the musical by Meredith Willson wowed audiences, putting a spring in their step and a song in their hearts. The story follows fast-talking traveling salesman Harold Hill (played by sophomore Jack Gereski) as he cons the people of River City, Iowa into buying instruments and uniforms for a boys' band he vows to organize, despite the fact he doesn't know a trombone from a treble clef. His plans to skip town with the cash are foiled when he falls for Marian the librarian (senior Whitney Turner), who transforms him into a respectable citizen by curtain's fall.
The cast and crew of more than 50 South County students (many of whom made their own costumes), and led by a talented student orchestra, entertained the audience with such crowd pleasing songs as "Ya Got Trouble," "Goodnight My Someone," and "Seventy-Six Trombones."
The stunning performance also received a nod from Cappies critics, receiving three nominations: Jack Gereski for Lead Actor in a Musical, Kathy Oh (as Zaneeta) for Female Dancer, and Katie Murray (as Mrs. Paroo) for Supporting Actress in a Musical. The Cappies Awards take place at the Kennedy Center June 9.