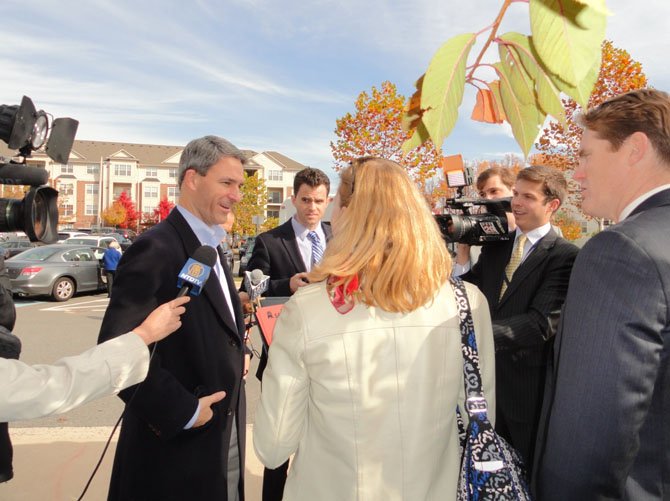 Virginia Attorney General and Republican gubernatorial hopeful Ken Cuccinelli came home to the Centreville/Clifton area Tuesday morning, Nov. 5, visiting some local precincts on Election Day.
After a quick stop in Prince William County, he went to three polling places here, starting in the Town of Clifton at the Clifton Presbyterian Church. He then made an unscheduled stop at Centreville High, in the Newgate South precinct, before going to Eagle View Elementary in Fair Oaks.
There, Cuccinelli spoke with Fairfax County Board of Supervisors Chairman Sharon Bulova, who was at that location to support her son David's reelection campaign as the 37th District delegate. He also answered some questions from the press and shook hands with well-wishers.
"I feel good," said Cuccinelli, who lived in Centreville with his family when he was the 37th District senator. "It's nice to be home and see people I used to live near and go to church with."
He looked relaxed and at ease and said he'd spent his "car time" traveling between stops talking to undecided voters on the phone, while someone else drove.
Cuccinelli said taxes, the economy and Obamacare are the main issues in this election and noted that he'd gotten questions Tuesday from local residents, asking for "clarification" of some of the TV ads they'd seen. "We need to diversify the economy so we can grow business in Virginia," he told voters outside Eagle View.
He also chatted with Fairfax resident Bernie Hite, Cuccinelli's former co-campaign manager when he ran for state delegate and senator. Then, at the request of a local family, he posed with them for a Facebook photo.
Gazing at the area around him, Cuccinelli commented on how much had changed since he'd moved away. Pointing at Eagle View Elementary, he said, "This wasn't here when I first started running."