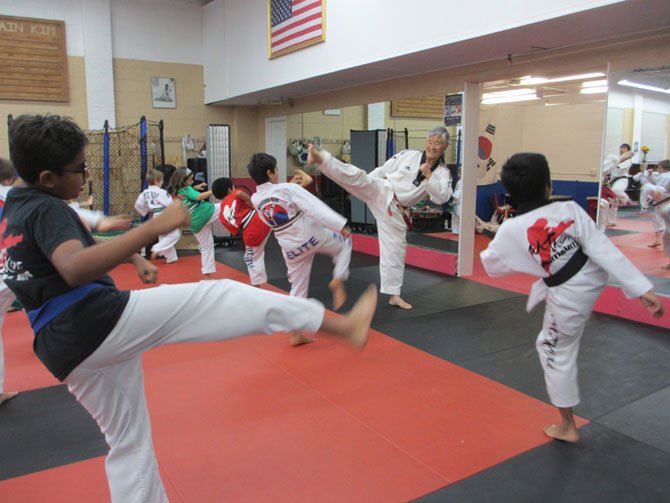 When Tae Kwon Do Grand Master Mountain Kim opened his martial arts school in Vienna about 35 years ago, it was the second of the eponymous Mountain Kim Tae Kwon Do schools in Northern Virginia. Now, there are approximately 20 Mountain Kim martial arts schools in the area, most of which are franchises. The Vienna and the Oakton schools are still owned and run by Mountain Kim's family. In fact, should you stop by the Vienna school on Dominion Road, it's not unusual to see the Grand Master there himself. He is not a titular face, either. Mountain Kim is hands-on in the practice studio and in the office.
"Every day, we teach respect, listening to parents, grandparents and teachers," said Mountain Kim. "We and the parents and the school work together to teach respect, discipline."
Mountain Kim calls himself "semi-retired," but his passion for the values that tae kwon do instills in its practitioners is as self-defining as it was in the Grand Master's earliest years. He says tae kwon do training is very good for children.
"One, it teaches them mental discipline … two, it teaches children to focus … three, it builds physical strength … and, the fourth thing, it teaches self-defense and confidence."
Mountain Kim's first martial arts studio was around the corner from his current location, on Church Street, next to the Savia Building. When he opened the Vienna school in 1978, Vienna was still much a "small town," he said. Eventually, he outgrew the facility he ran on Church Street and moved to the Dominion Road spot 18 years ago. A fleet of Mountain Kim shuttle buses dot the parking spaces.
"When I started teaching, 90 percent of the students were adults," Mountain Kim said. "Now, 80 percent are kids, and only 20 percent are adults. Tae kwon do is very good for children."
THE RESPECT shines in the class environment. Students bow to instructors, instructors bow to students.
There is a protocol in the bowing. The student bows to higher belts and the higher belts reciprocate. "We show respect for one another," Mountain Kim said. "When the children bow, we bow back."
A kindergarten girl, assessing her first class, said, "there was a lot of bowing going on." The thing is, the mutual respect is part of the tae kwon do culture.
Mountain Kim describes the term tae kwon do by breaking it down into its individual components. In the Korean language, it is spelled as a single word. "Tae" means "foot," "leg," or "to step on"; "kwon" means "fist," or "fight"; and "do" means the 'way' or 'discipline.'
Mountain Kim's journey to Grand Master took the traditional arduous journey. He started his own training in Korea more than 60 years ago. He returned to Korea to take the strenuous tests to achieve Grand Master level. There are, Mountain Kim explained, levels of belts, including the most heralded, the Black Belt. Mountain Kim is the highest level attainable, a 9th degree Black Belt. Black Belts from 7th degree up to 9th are eligible to test for Grand Master level. Black Belt degrees 4 through 6 are eligible to test for "Master' level, and Black Belt degrees 1 through 3 may test for "instructor" level.
MOUNTAIN KIM was awarded Grand Master 20 years ago.
Tae kwon do divides belt levels in two divisions, a junior division, which is ages up to 16, and a senior division, which is 16 years old and above.
Mountain Kim's classes are each instructed by a team of Black Belts, including a "Master" Black Belt.
Students of the school are encouraged to participate in regional martial arts tournaments.
The Mountain Kim Tae Kwon Do school in Vienna offers after-school programs that incorporate study time for the students and tae kwon do instruction. There's a separate room for the after-school students to afford them the opportunity to concentrate on their homework.
"If you can focus here, you can focus at school and at home," Mountain Kim said.
Miran Kim's [no relation] daughter, age 7, comes to the school for discipline and focus, Miran Kim said. "It helps her to focus at school and at home, as well. What she learns here is reinforced at home and at school, and it helps to build her personality in a positive way."
"I think it's important for girls to take this class for self-defense."
The Mountain Kim Tae Kwon Do school in Vienna is at 210 Dominion Road, NE, Vienna, 22180. Go to www.mtkim.com or call 703-255-0202 for class schedule and information.