On Nov. 2, the newest Fairfax County fire and rescue station No. 42, Wolftrap had a grand opening open to the public. The fire station is at 1315 Beulah Road in Vienna. Also attending the event were local dignitaries including members of the Fairfax County Board of Supervisors, Chairman Sharon Bulova, Supervisor John W. Foust (D-Dranesville), Supervisor Catherine Hudgins (D-Hunter Mill), and County Executive Edward L. Long, Jr. The station is the county's 38th fire and rescue station.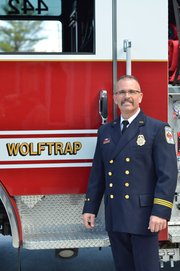 Station Commander Captain Ronnie A. Rodriguez opened the event by greeting all guests and visitors inside the station. There was a presentation of the colors with the Fairfax County Fire and Rescue Honor Guard, followed by a musical performance of "God Bless America" by the Northern Virginia Firefighters Emerald Society Pipe Band. Chaplain Bill Korpi led a prayer for the firefighters and all who would work at the station. "This is not just a place to hold gear," Korpi said.
The Wolftrap station opened on Oct. 1, and made more than 60 calls during its first two weeks of operation. All Fairfax County firefighters are basic-level EMTs. Paramedics receive certification beyond that. The Wolftrap station goes out to Crowell and Hunter Mill roads in one direction, and to the four-corner stop at Beulah, Trap and Old Courthouse roads.
"Recession or not the community needs this service… we look forward to many years of great service," Supervisor Foust said. "This is really an exciting thing," Supervisor Hudgins said. "Thank you, to the fire department, you are a valuable service to all of us."
"On Oct. 1, our first call was run out," Fire Chief Richard Bowers said. "This fire station is absolutely magnificent and it is a great birthday present." (Rodriguez mentioned earlier Nov. 2 is Bowers' birthday.)
"The opening of this fire station represents a collaborative effort between many different county agencies and the community. It is great to see it all come together and the opening of this station, it is a beautiful facility," said Ronald N. Kirpatrick, Deputy Director of the Fairfax Department of Public Works and Environmental Services.
Following the remarks, certificates of appreciation were handed out to individuals who helped with the opening of the fire station. There was then a ceremonial hose uncoupling with Fire Chief Bowers, Captain Rodriguez and all guest speakers. Afterwards the Northern Virginia Firefighters Emerald Society Pipe Band played several more songs including a "Happy Birthday" for Fire Chief Richard Bowers. Other songs played included "The Gallant 42", "Shenandoah," and "Morag of Dunvegan."
One of the individuals who received a certificate of appreciation was Marwan Mahmoud. A construction engineer, Mahmoud had worked with the Fairfax County Department of Public Works and Environmental Services in the creation of the fire station. "I am glad that it is open for the community and being used," Mahmoud said.
Mahmoud explained the station achieved Silver Leadership in Energy and Environmental Design (LEED) certification. "This is an environmentally friendly building," Mahmoud said. Flooring, carpet, window frames, and other materials are made of 25 percent or higher of recycled materials. Cabinetry is made from reclaimed straw products, and appliances are high efficiency Energy Star rated.
"It took an extraordinary team effort from an innumerable amount of people to pull this together. Not just to build it, but to get it funded and get us in it," said Captain Rodriguez. With 21 years of service with the fire department, Rodriguez had been a resident of northern Virginia for most of his life, and attended W.T. Woodson High School.
The new Wolftrap station works in partnership with the Vienna Volunteer Fire Department. To read more about them and upcoming events visit: http://www.vvfd.org