It is happening over and over again. Piece by piece, our natural landscape is being taken away from our families. Whose neighborhood will be affected next? The forests that provide protection from floods, cleaner water for our families, habitat for wildlife, and enrich our communities with their beauty, are being destroyed to make way for an urban Tysons Corner. Our once rural history is now made up of patches of the past. What can we do to convince those that represent us that we want to keep intact some of what is left of our historically rural area?
We have all experienced the growing pains of living in the Tysons Corner area as the Metro nears completion. We have been asked to endure the paving of our once rural area to make way for the new. We have carried the burden of construction, traffic, and change. In the process, what has our County done to protect the residents that have lived, worked, and played in surrounding, stable neighborhoods?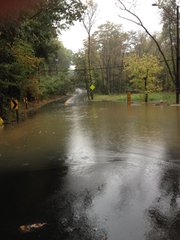 As a community, we need to be aware of what is occurring in adjacent neighborhoods, as unbridled development will change the nature of where we all live. Many of you have probably experienced the effects of infill in our community. Developers in our area continue to vie for rezoning for higher density of houses. Fairfax County uses its Comprehensive Plan to "guide in decision-making about the built and natural environment." But how well does the County follow its own adherence to the Plan?
Developers are gaining approval for rezoning parcels that were originally of much lower density. For example, we have seen several new developments spring up in the Westbriar community, which have been rezoned, more than doubling their density. Each parcel may seem small by itself, but when you add up all the acreage, you are talking about a great deal of land being cleared of forest and built up with multiple houses.
One of the newest proposals being reviewed by Fairfax County requests that 5.4 acres be rezoned from R-1 to a PDH-2 designation. The development is off of Old Courthouse and Besley roads. The developer, Sekas Homes Ltd., asks to more than double the number of houses in this area. In addition, the same developer just got approval for a rezoning from R-1 to R-2 of 2.5 acres on Drewlaine, which is right around the corner from this property. That parcel has already been clear-cut of trees, and construction has begun.
All of us who live here know about the floods that already are occurring after short storms at Old Courthouse Rd. and Besley Rd. With the high density of houses proposed, the majority of mature forests will be taken down, which now act as our natural filter for water and pollutants. Add up all the other rezoned parcels, and we can all see the ensuing problems with the increase of impervious surfaces and tree loss.
How can we fight developers' efforts, which degrade the natural fabric of our community? A petition against this latest rezoning has been launched and given to Hunter Mill District Supervisor Catherine Hudgins and County staff. It has been signed on by two homeowners' associations and many surrounding residents. This application is not compatible with the adjacent community, would alter the nature of the existing neighborhood, and impose unnecessary environmental risks and impacts on the beleaguered Wolf Trap Creek and Difficult Run Watersheds.