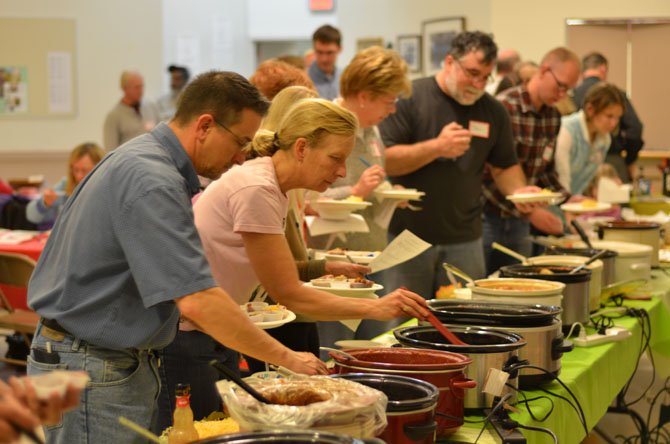 St. Timothy's Episcopal Church in Herndon held their annual Chili Cook-off on Saturday, Nov. 9. The event was well attended, with 17 different chilies in the competition. The previous year, there were 12 chilies in the competition.
"I think what is great about St. Timothy's is that it has a great diversity of folks of different ages and stages of life," said Herndon resident Matt Schumann. Jill Cox, chair of the church's Open Arms Ministry, participated this year in the chili cook-off. "The cook off competition is as a memorial to a former congregant, and we decided to keep it up in his memory," said Cox.
The event was a fundraiser for the upcoming Lakota Mission trip to South Dakota in May 2014. In addition to chilies, congregants supplied side dishes, desserts, and beverages. "Northern Virginia can be a rough place to live, building connections is sometimes done on the fly," said Reverend Brad Rundlett. "This cook-off was started by a member so people could socialize and have some downtime."
Sean Brady, a member of the congregation for 18 years, was participating in the competition. "I obtained an electric smoker and decided I wanted to try it on a chili recipe," said Brady. Oak Hill resident and congregant Allison Dodd brought a meatless chili, and her husband Brian Dodd brought a chili with no beans to the event. Everyone attending the cook-off could vote for six possible winners in different categories of chili.
At the conclusion of the event, $239 had been raised for the next year's Lakota Mission trip in May. Congregant Kent Miller announced the six winners:
No Beans Chili – Brian Dodd, Chili with Beans – Kent Miller, Meatless Chili – Allison Dodd, White Chili – Carol Hamm, Overall – Brad Rundlett, Spicy Chili – Patrick Hobson.
Carolyn Hamm, resident of Herndon since 1997, mentioned this was the second fundraiser held this month for ministry related activity. St. Timothy was one of the founding churches of The Closet thrift shop located in Herndon at 845 Station Street. Also, the church has an annual mission trip to Chapateau, Haiti. A mission team from the congregation left for Haiti on Saturday, Nov. 9 and is expected to return Thursday, Nov. 14.
To learn more about St. Timothy's Episcopal Church, visit their website at http://www.saint-timothys.org.