Not everyone in Fairfax County has enough food to eat. And many students receiving free and reduced-price lunches in school go hungry over the weekend. So Centreville Elementary (CES) started a Backpack Program to fill the void and provide weekend food for its students needing it.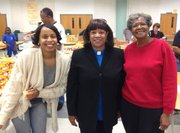 The school also formed a partnership with Mount Olive Baptist Church, and its members recently donated enough food to pack 1,000 bags to be inserted into students' backpacks as they leave school on Fridays.
Then on Saturday, Oct. 19, many of the church members volunteered, along with Centreville Elementary staff and some Liberty Middle School students, to package up all the food into bags for distribution to the students. There were about 50 volunteers altogether, and Centreville Elementary counselor Esther Kang, who helped organized the effort, was both delighted and grateful.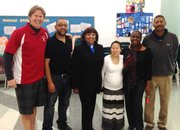 "This was so important because, through the generous donations from Mount Olive and all the volunteers who came to help, we were able to pack enough food bags to help feed over 70 students on the weekends until the spring semester," she said.
"When people think of the Centreville area, I don't think many realize how many families in our community are in need," continued Kang. "For the CES students enrolled in the Backpack Program, it will mean that they don't have to worry about not having enough food on the weekends and they will hopefully see how it may help their parents' financial situation."
She said the fact that this program is run through Centreville Elementary also "shows the students that the staff not only cares about their grades and achievement, but we also care about their personal well-being and needs. My hope is that the students also realize the community support behind them — and that when they get to be adult citizens — they will also do the same for others and pay it forward."