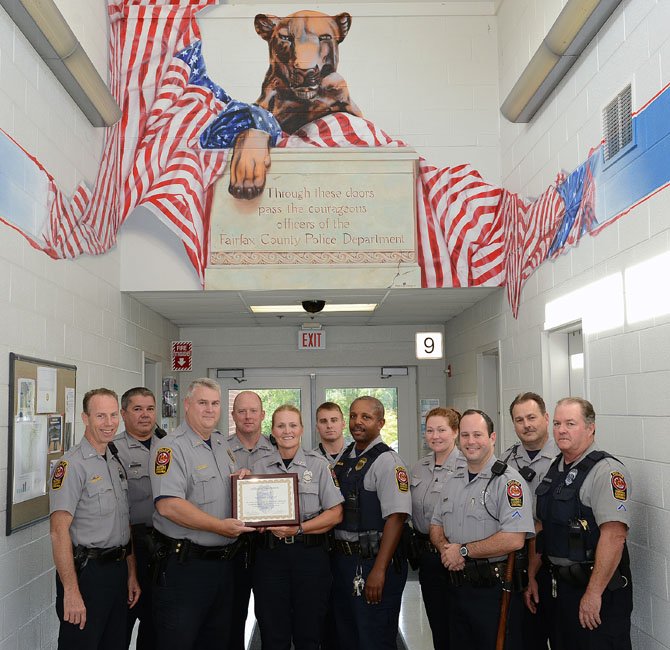 MPO Julie L. Hersey was honored recently as the Sully District Police Station's Citizens Advisory Committee's Officer of the Month for October. Nominating her for this award was her direct supervisor, 2nd Lt. Michael Reser.
Hersey joined the Fairfax County Police Department in 1986. During her 27-year career, she's served in several capacities, including patrol, police information officer and Honor Guard.

"With every endeavor, MPO Hersey has shown her dedication and professionalism," wrote Reser. "She has maintained a positive attitude, which was mentioned in every annual evaluation that she received."
He noted that Hersey has always shown her dedication to the job and to the citizens she's served. "Her personnel file is filled with letters of recommendation which were received not only from citizens, but from her peers — which is a rare compliment," wrote Reser. "Hersey has been nominated for several performance awards during her tenure as a Fairfax County Police Officer, as well. The most prestigious is the Chief's Eagle Award, which she received in 2010."
In addition, Hersey was nominated for the Kenny Fuller MPO Achievement Award. In his nomination of her, 2nd Lt. Todd Kinkead wrote, "MPO Hersey is someone of unwavering commitment to the police department and those with whom she works. She can always be counted on to do her part and then go above and beyond."

"We concur with his assessment and add that Hersey is an example of what a Master Police Officer should be," wrote Reser. "[She's] honest, forthright and acts as a sounding board for younger officers on the squad."
He described Hersey as an "excellent example" to the officers she serves with and a "dedicated, informal leader within her patrol squad." Reser also stressed that she has the respect of both her peers and supervisors and has maintained her "high level of dedication" for a sustained period of time.

"Newer officers count on her to set the tone and look at all facets of a situation before reacting," he wrote. "For her supervisors, [she] makes the job of supervision much easier. Due to these facts and more, MPO Hersey was selected for the CAC October 2013 Officer of the Month award."