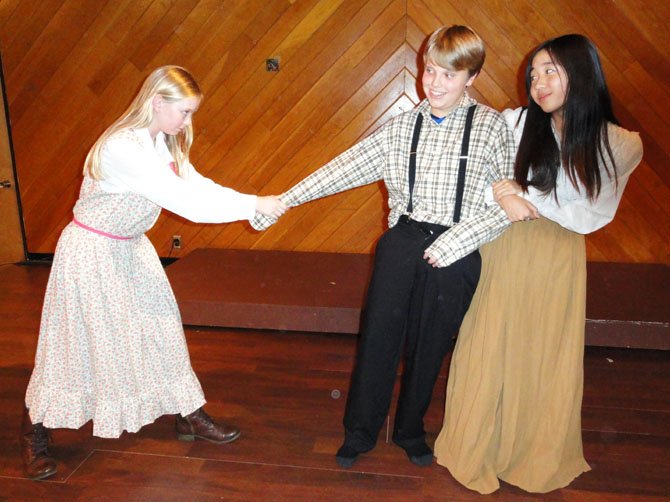 Featuring a cast and crew of 60, Rocky Run Middle will perform Mark Twain's classic story of "Tom Sawyer."
Show times are Thursday-Friday, Nov. 21-22, at 7 p.m.; and Saturday, Nov. 23, at 2:30 and 7 p.m. Tickets are $7 at the door and during school lunches starting Nov. 18.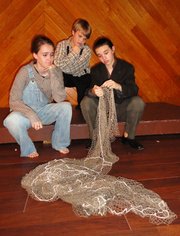 "The students are extremely talented," said Director Trena Weiss. "I always contend that age has nothing to do with how well you can perform. I believe that, if they approach a play in a professional manner, that's the level of product they'll achieve."
The show follows the novel about an orphan in rural Missouri on the Mississippi River in 1860. It depicts the adventures of Tom and his friend Huck Finn and how they handle adolescence and the aftermath of witnessing a serious crime.
Scenes take place on the river, in a one-room schoolhouse, in a cave and at Tom's iconic fence. And the period costumes will include long skirts and long-sleeved tops for the girls, plus button-down shirts and work pants for the boys. "It's great introducing kids this age to the show's historical and cultural context," said Weiss. "For example, zippers weren't invented, yet, and they wore clothing at their waists."
The play's a drama, but is also infused with Twain's famous humor. Weiss said the audience will also enjoy its energy, the way the show looks and "the sheer magnitude of the number of actors onstage. And no matter how few lines they may have, these kids are fully developing their characters exceptionally well."
Portraying Tom is eighth-grader Jack Wood. "Tom's mischievous and gets into trouble, but he's really charismatic and everybody likes him," said Jack. "He lives with his aunt and cousins and is imaginative. He and Huck are leaders of the other boys at school and they all look up to Tom."
Since Tom changes throughout the play, Jack said it's challenging showing how he grows into a better person. But he likes his role because "Tom gets to interact with all the characters and I'm excited to have such a big part." He said the audience will love the story, the comedy, the characters' personalities and everyone's performances.
Classmate Jenny Lee plays Becky Thatcher. "She's a sweet and honest girl, but a little coy and flirtatious with Tom Sawyer," said Jenny. "She's new to the town and she and Tom become friends. It's fun to play her because I get a chance to step out of my own skin and be someone else. And I like that Becky's so innocent and really open about her feelings."
Jenny says people will laugh at the jokes and love the costumes and set, "plus the level of our acting skill. It's a cute show that'll make the audience happy."
Playing Muff Potter, a man in his late 20s, is eighth-grader Samantha Matthesen. "His wife and child died in childbirth, and he was so sad that he moved to Missouri to start over," explained Samantha. "He meets Tom and thinks of him as a son; they become friends and go fishing together. He's a good guy, but is often a little tipsy."
Samantha said he's interesting to play because "he's a genuinely good person, but his actions are hindered by his drinking. Even though he doesn't have many lines, he has some important scenes that really contribute to the plot." And because she's portraying a man, she has to use a different gait and posture.
She said the audience will like how well-written this play is. "A lot of scenes go from emotional and distraught to excited and peppy," said Samantha. "And the plot has lots of twists, plus some extra scenes from Twain's book about Huck Finn."
Seventh-grader Nikki Spina plays Naomi, a young girl who's just arrived in town off a steamboat. "She's Jewish, but the preacher and deacon are trying to change her into a Methodist," said Nikki. "She's also overly outgoing and excited. I like playing happy roles and, because I'm having fun playing Naomi, the audience will have fun watching."
Nikki's also enjoying helping with the costumes and says the audience will like "the contrasts among the different types of characters and between their time period and ours."