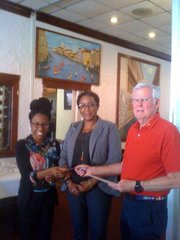 The Northern Virginia Knights of the Round Table (NOVA) presented the 2013 Excalibur Service Award of $750 to SHARE, Inc., of McLean.
SHARE, a local nonprofit community group also recently received a total of $1,600 from NOVA to assist them in providing food and emergency assistance to community residents in need. The NOVA Round Table is a non-political and non-sectarian community service group celebrating 60 years of service this year. They have partnered with a number of service groups working with persons with disabilities and other needy persons. It is a chapter of The Loyal Knights of the Round Table International.
Community minded citizens are welcome to attend weekly luncheons sponsored by the group in Falls Church. Those interested in their activities and speakers program can contact John Theon, president, at 703-356-1435 or jtheon@starpower.net.