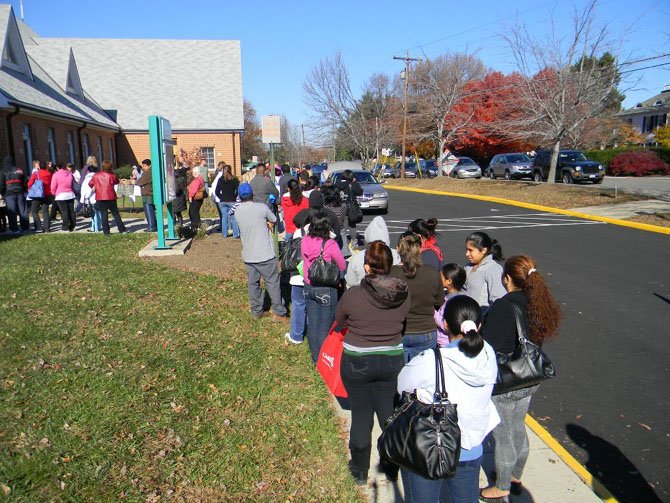 The holidays are about giving. They are about children. The holidays are about sharing, about joy, about alleviating suffering for others. The holidays are about being thankful and about faith and appreciation.
Most of us live in neighborhoods that are very homogenous. There are exceptions, but most people reading this live in affluent areas where the houses are mostly in the same price range, and while there might be some ethnic diversity, there is little in the way of economic diversity.
It's easy to forget that there are massive unmet needs, hungry children, homeless families most with at least one working parent, homeless individuals with jobs and without jobs, people who don't know for sure whether they will have enough to eat or be able to be warm enough, people who are choosing between medical care and car repair when forgoing the car repair could mean losing a job.
In Fairfax County Public Schools, about 50,000 of the 185,000 students qualify to receive free or subsidized meals, a significant measure of poverty. Many elementary schools staff are discovering that for some of these students, a majority of students in some schools, they only meals the can count on are breakfast and lunch on school days.
Nonprofits, school staff and individuals have been working to send backpacks of healthy, kid-friendly food home with students on the weekend.
It's hard to imagine 50,000 students going hungry; it's obvious that children who aren't sure they will be able to eat when they are hungry are not going to have joyous holidays filled with family meals, gifts and special activities.
Hundreds of homeless students attend the public schools, and their needs are greater.
There are literally hundreds, probably thousands, of ways to give locally this season. Here are a few ideas. We welcome suggestions for other groups.
Fairfax County
Where To Give Locally
In no particular order:
Our Daily Bread — has been serving needy families in Fairfax County for 25 years. The Holiday Program helps those in need with food for the holidays and gifts for their children, making last year's holiday season brighter for approximately 3,000 families. For more information on their holiday programs, including how to sponsor a family, go to www.odbfairfax.com/holiday
Food for Others distributed more than 2.4 million pounds of free food to families in need in Northern Virginia in the year ending June 30, 2012, The non-profit provides a safety net for people who suddenly face unforeseen emergencies such as a family illness or the loss of a job or a spouse. Located at 2938 Prosperity Ave., Fairfax, VA 22031, 703-207-9173. www.foodforothers.com
Ecumenical Community Helping Others (ECHO), 703-569-9160. Open to receive donations at 7205 Old Keene Mill Road, Springfield. Provides food and financial assistance to those in short-term emergencies, and provides clothing and household goods to low income families, helping more than 5,000 people last year. www.echo-inc.org.
Lorton Community Action Center operates the Act ll Thrift Shop at 9506 Richmond Highway, Lorton. Sales from the shop generate funds for LCAC and clients also shop there. Now collecting gift cards and food baskets for Thanksgiving, gifts and food baskets for Christmas, and warm coats. 703-339-8611 www.lortonaction.org.
Boys and Girls Clubs of Greater Washington Fairfax Area operates clubs in two of the neediest areas of the county, Culmore and the Route 1 corridor, focusing on character and academic success. http://www.bgcgw.org/fairfax/
Office to End and Prevent Homelessness needs just a few thousand dollars more in contributions for Jeans Day (in October) to qualify for a matching grant from the Phillip L. Graham Fund, turning many $5 and greater donations into $50,000 to help thousands of homeless in Fairfax County. www.ziphomelessness.com
12 Ways of Giving: Fairfax County Office of Public Private Partnerships "12 Ways of Giving" campaign is an annual event that showcases many ways for meaningful, local giving during the holiday season, highlighting nonprofits in Fairfax County. www.fairfaxcountypartnerships.org
Assistance League of Northern Virginia is an all-volunteer organization that clothes, feeds, educates and nurtures those in need. Working through six elementary schools and Inova Fairfax Hospital, Assistance League touches the lives of some of the most needy in Northern Virginia. The schools involved include Dogwood Elementary in Reston, Lynbrook Elementary and Garfield Elementary in Springfield, Cora Kelly Elementary in Alexandria and Pine Spring Elementary in Falls Church Volunteers and donors are always needed. Contact ALNorthernVA@yahoo.com or see www.northernvirginia.assistanceleague.org
Comfort for America's Uniformed Services (CAUSE) — ensures that recuperating service members have opportunities for recreation and social interaction and receive concrete signs of appreciation for all that they have done. 4114 Legato Road Suite B, Fairfax, VA 22033, 703-591-4968, cause-usa.org
National Capital Food Bank, 6833 Hill Park Drive, Lorton, serving all of Northern Virginia, 703-541-3063. www.capitalareafoodbank.org
Western Fairfax Christian Ministries — food pantry at 13981 Metrotech Drive in Chantilly (near Backyard Grill and Bar). For more information or to sponsor a family, call 703-988-9656, ext. 105. To mail gift cards or send donations by check, add a note saying "food basket program" and send them to: WFCM, P.O. Box 220802, Chantilly, VA 20153. 703-988-9656.
The Jeanie Schmidt Free Clinic, 13525 Dulles Technology Drive, Herndon, VA 20171, 571-235-3577. Last year, 139 community volunteers — nurses, nurse practitioners, and physicians — gave more than 1,300 hours of their time to see patients. jsfreeclinic.org.
Alternative House — Abused and Homeless Children's Refuge, 2100 Gallows Road, Vienna, VA 22182, 703-506-9191. www.thealternativehouse.org.
Cornerstones, 11150 Sunset Hills Road, Suite 210, Reston, serving Reston and Herndon. 571-323-9555, www.cornerstonesva.org. Programs and services include the Embry Rucker Community Shelter, Emergency Food Pantry, Hypothermia Prevention Program and the Thanksgiving Food Drive.
SHARE of McLean seeks donations of grocery gift cards and more. Checks and gift cards can be sent to: Holiday Celebration, Share, Inc. PO Box 210, McLean, VA 22101. 703-284-2179. www.SHAREofMcLean.org
LINK, serving Herndon, Chantilly, Loudoun and more, needs contributions of food, coats and holiday toys for children, plus volunteers. More than 4,000 adults and children have signed up for help with Thanksgiving and Christmas meals. 703-437-1776 www.linkagainsthunger.org
FACETS helps parents, their children and individuals who suffer the effects of poverty in the Fairfax area. FACETS is always in need of volunteers, and offers a variety of one-time and ongoing opportunities. 703-865-4251 or volunteer@facetscares.org. FACETS offers a monthly Youth Volunteer Night, with the next one scheduled for Tuesday, Nov. 20, 5:30-6:30pm. Information about supply donations and FACETS holiday gifts drive is available on the website at www.facetscares.org. 10640 Page Avenue, Suite 300, Fairfax VA 22030
Committee for Helping Others (CHO), Vienna, organized in 1969 by a group of concerned churches and individuals in the Dunn Loring, Merrifield, Oakton, Vienna community to provide simple, loving charity to those in need. 14th Annual Thanksgiving Interfaith Service is Tuesday, Nov. 20, 7:30 p.m. at Emmanuel Lutheran Church, 2589 Chain Bridge Road. Vienna 703-281-7614 http://www.cho-va.com
Fairfax City Area FISH (For Immediate Sympathetic Help), working with the Office of Coordinated Services Planning, Fairfax County Department of Human Services, FISH helps local citizens who are in temporary need of life's basic necessities such as food, clothing, and financial assistance for rent, mortgage payments, utilities, and medical treatments. FISH also provides limited transportation for doctor appointments and food delivery. 703-222-0880 http://fairfaxfish.org/
Herndon-Reston FISH (For Immediate Sympathetic Help), 336 Victory Drive, Herndon, 703-391-0105 http://herndonrestonfish.org
Lamb Center, www.thelambcenter.org, Day center for homeless, Fairfax 703-691-3178
Northern Virginia Family Service, 10455 White Granite Drive Suite 100, Oakton, VA 22124 703-385-3267 http://www.nvfs.org/
United Community Ministries, Mount Vernon, 703-768-7106, 7511 Fordson Road, Alexandria, 22306 http://www.ucmagency.org/
Touching Heart in Herndon is a nonprofit organization whose mission is to educate children to have giving hearts. http://www.touchingheart.com, 703-901-7355