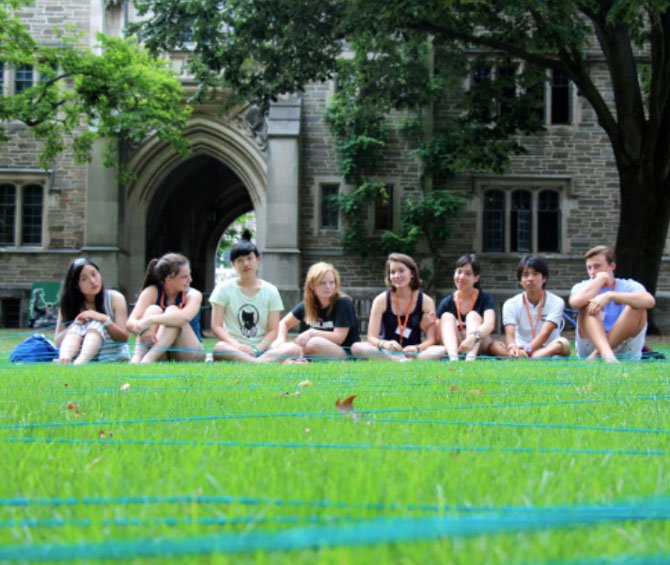 Every September, as long as I can remember, I have written the age old paper titled "What I did last summer." I have always dreaded this assignment to the point that I would ask my parents in May about our plans for the summer, hoping there might be something special to report in September.
No fear for me this year. This past summer, I was fortunate to be selected to participate in the High School Diplomats program, which brings together 40 American students and 40 Japanese students on the Princeton University campus for a 10-day cultural exchange.
Each day was a new experience, whether discussing ongoing efforts to increase energy resources for Japan, participating as global citizens in the High School Diplomats Talks, or channeling our inner rock star at the High School Diplomats Palooza, everyday was intense, rewarding and fun-filled.
Because I live in Northern Virginia, I was lucky to be a part of a critical component of the High School Diplomats program called Homestay, which took place before our travel to Princeton. Particpants spend three days in Washington, D.C. touring the Nation's Capitol. Following that tour, High School Diplomats places each student in participating American students' homes so the Japanese students can be immersed in everyday American family life. It is a vital and rewarding part of the program, and I was paired with my soon-to-be Princeton roommate Tomoki Hiya and another student Ranmaru Kito.
I CLEARLY REMEMBER the feeling when I saw all 40 of the Japanese students come bounding off that tour bus. Their excitement was infectious, and holding the name placards we made for them, we anxiously waited to meet our guests. Because we had shared contact information in advance, we had all been in communication and could not wait to put faces to names. My roommate Tomoki ran up to me and gave me a hug as if we were long lost brothers, and after this program, I honestly felt this was so. We were paired perfectly.
The next three days went by in a flash. My three dogs fascinated Tomoki and Ranmaru. Seeing our grocery stores, Tysons Corner Mall, the size of COSTCO, riding the Metro, meeting our group at the Zoo, steak and double stuffed potatoes at home, meeting my friends, swimming at their houses – Tomoki and Ranmaru were excited to do anything and everything. They were the most amazing guests and I will never forget their visit, nor this part of the program.
Sunday afternoon, the Japanese students headed to New York City to start the final leg of their US tour before reuniting with us at Princeton where we had our own High School Diplomats orientation.
High School Diplomats is exactly as billed, and so much more. A typical HSD day starts at 7:30 a.m. with a little Rajio Taiso, a traditional Japanese morning stretch intended to invigorate the body and mind. I still remember how to count in Japanese because of this morning exercise - Ichi, Ni, San, Shi, Go, Roku. Immediately after stretching we had a great breakfast in the Princeton dining hall. Mealtimes were almost a full hour because this time was a great opportunity to get to know each other better and share so much. Both cultures place an emphasis on the importance of sharing meals and this was another favorite part of our day.
An interesting element to the program were presentations the Japanese and American students were assigned that addressed specific topics within our own cultures such as education, social issues, regional differences in each of our own countries, and our governments. It was eye opening to learn about the differences, but also amazing to see how many similarities there were as well.
Mornings tended to be more academic with language and culture classes, and the afternoons were more social and interactive. We learned how to roll sushi, do calligraphy, and we talked about American slang. No two days were the same. We shared our favorite traditions and holidays by recreating Halloween, a Country Fair Day, Olympics, Color Wars, and the Japanese students prepared a culture day that was incredible. The depth and intensity of their talent was inspiring. My favorite day of all was our free day when we went out with our roommates into Princeton, followed by Date Night, where the staff had organized what was similar to an American homecoming or prom. There was never a dull moment at High School Diplomats.
AS THE 10 DAYS CAME TO A CLOSE, we did not get much sleep. We just did not have enough time left together. As we lined up for our last goodbye, emotions overwhelmed us. The relationships I forged and the memories of this experience will be with me forever. And this is why I am sharing High School Diplomats in America with you.
By now I hope that you will want to apply to High School Diplomats or know someone who should be a part of this opportunity for Summer 2014. The program runs from July 29 to Aug. 9. Sophomores and juniors from all over the US can apply and everyone will have an in-person interview. The best part of all – this program is entirely scholarship based. If you are chosen to be a High School Diplomat, the entire program is paid for. All you need to do is visit the HSD website – www.highschooldiplomats.com, click on the HSD in America tab and begin the process.
Applications must be postmarked no later than Jan. 8, 2014. Once you submit your application, you will be contacted to schedule your interview in March and final decisions are communicated in April. If you look further on the HSD site, you will see that your acceptance and participation in HSD in America 2014 makes you eligible to apply for USHSD to Japan the following year, which is almost a reciprocal extension of HSD in America – a three-week, all expenses paid trip to Japan where the American students will be immersed in Japanese life.
Jack Overholt of Oakton is a student at The Hill School in Middleburg.