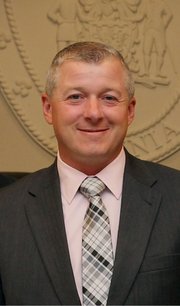 Michael McCarty, director of Parks and Recreation for the City of Fairfax, has been elected to the American Academy for Park and Recreation Administration. He was inducted in October at the Academy's Annual Meeting during the National Recreation and Park Association Congress in Houston.
The Academy is a group of distinguished practitioners and educators who are leaders in the field of park and recreation. The Academy is limited to 125 active members.
More information on the Academy is available at www.aapra.org.
McCarty, CPRP has over 21 years experience in the field of Recreation and Parks and has been the Director of Parks and Recreation for the City of Fairfax since 2006. McCarty has served twice as the chairman on the Revenue Management and Development School during his nine years on the Board of Regents at Oglebay Resort in Wheeling, W. Va.
Prior to the City of Fairfax, McCarty was the Executive Director of Parks and Recreation in Town of Longmeadow, Mass.
McCarty also served as the Assistant Director of Recreation for the Town of South Windsor where he received the 2003 Outstanding Professional Award from the Connecticut Parks and Recreation Association.