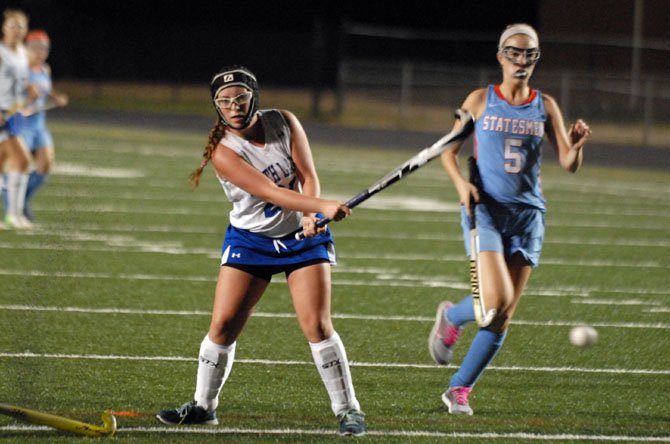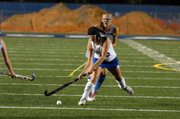 From 2007 to 2012, the Marshall field hockey team won eight consecutive matchups against South Lakes, outscoring the Seahawks 30-3 in the process.
On Monday night, a "goal hungry" Aly McCarty put an end to the streak.
McCarty, a junior on the South Lakes field hockey team, scored a goal in the opening minute of the second half and the Seahawks defeated Marshall 1-0 on Sept. 30 at South Lakes High School.
Junior midfielder Megan Greatorex assisted the goal.
"I think I definitely wanted to score," McCarty said. "Coming into the second half, I was like, I need to get it done now. I was really goal hungry."
South Lakes improved to 8-3-1 under first-year head coach Jessica Salo, who coaches at the club level for Potomac Field Hockey. The Seahawks started 6-1-1 but suffered back-to-back 4-0 losses to Langley and T.C. Williams. Since then, South Lakes responded with a 2-0 win against Wakefield and a streak-ending victory against Marshall.
"Unfortunately, those last two losses were kind of tough, but I think we've turned it around," Salo said. "… I think we've worked out a lot of the kinks."
Salo said McCarty, Greatorex and senior Katie Hunt have been the Seahawks' top offensive players.
"I think I definitely wanted to score. Coming into the second half, I was like, I need to get it done now. I was really goal hungry."

--- South Lakes junior Aly McCarty
With the loss, Marshall dropped to 6-6. The Statesmen graduated 12 seniors from last year's team, including eight starters.
"I think we had moments of really nice hockey where we were spread out and we had some good passes … and made some plays," Marshall head coach Christina Carroll said. "I just think that we weren't consistent throughout. There were moments of intensity with hustle and then there were moments of no hustle, watching the ball, just kind of reacting to things. It's the consistency that's been killing
"… This is the first time in many years we've lost to South Lakes. They've been getting stronger and stronger every year, so kudos to them."
Carroll said junior midfielder Lauren Kaup has been the Statesmen's offensive catalyst.
"She's smart with the ball when she gets it and she has a really dynamic run when she has the ball," Carroll said. "She can change pace, she can change direction. She's a very strong player for us."
Senior forwards Allie Johnson and Kelly Mills, and sophomore forward Victoria Novak, a transfer from Falls Church, are Marshall's top goal scorers.
South Lakes will travel to face McLean at 7:30 p.m. on Wednesday, Oct. 2. Marshall will host Langley.