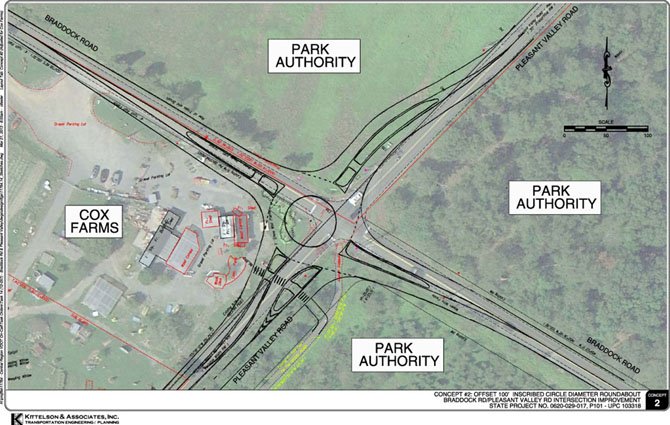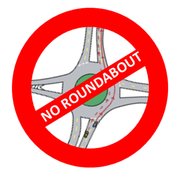 Get Involved
VDOT will hold a design public hearing Wednesday, Oct. 9, from 6-8 p.m., at Stone Middle School, 5500 Sully Park Drive in Centreville.
Anyone unable to attend the Oct. 9 meeting, but wishing to comment on the project may write to: Leonard "Bud" Siegel, P.E., VDOT District Office, 4975 Alliance Drive, Fairfax, VA 22030, or e-mail meeting_comments@.... Write "Braddock and Pleasant Valley Roundabout" in the subject line.
Centreville — In the long-distant past, Civil War soldiers from the North and South fought in the Centreville area. And although the newest battle brewing on the horizon doesn't involve weapons, it's a bitter fight, nonetheless.
In it, Fairfax County is pitted against Loudoun County. The issue is the roundabout proposed for the intersection of Braddock and Pleasant Valley roads — and an upcoming meeting about it promises to be anything but civil.
VDOT's holding a design public hearing Wednesday, Oct. 9, from 6-8 p.m., at Stone Middle School, 5500 Sully Park Drive in Centreville. And in a show of strength for their position, proponents from both counties are vowing to bring as many people as possible to the event.
Although the project is located in Fairfax County, a good deal of Loudoun County money has gone into it. And it's no wonder, say many Centreville residents, because it will benefit Loudoun commuters to the detriment of Centreville motorists and residents alike.
"There'll be no break in traffic from Loudoun County," said Priscilla Knight of Centreville's Sully Station II community. "People won't be able to get out of their neighborhoods. We're strongly against that roundabout."
The Braddock/Pleasant Valley roads intersection is beside Cox Farms in Centreville and near the Fairfax/Loudoun border. It regularly backs up at rush hour so, at Loudoun's urging, VDOT plans to build a 105-foot circle there to move vehicles through that spot quicker.
To date, Loudoun, VDOT and the Commonwealth Transportation Board have secured some $2.8 million for the roundabout. But estimates for this project have risen to more than $4 million, leaving a funding gap of about $1.4 million, and Loudoun wants VDOT to make up the difference.
However, many Centreville residents living near that intersection — as well as those whose neighborhoods would be impacted by the increased flow of Loudoun County motorists the improvement would bring — are vehemently opposed to a roundabout. They also stress that the circle would skew dramatically in Loudoun's favor, with Fairfax drivers being mostly out of luck.
"Right now, the majority of the traffic comes from Loudoun and, once they're in the roundabout, no one else will be able to get in," said Judy Heisinger of Bull Run Estates. "I think there'll be accidents and people from Loudoun won't slow down."
Virginia Run's Ted Troscianecki also has a safety concern. "Just east of Braddock Road is the notorious S-curve," he said. "And improving that intersection puts more pressure on the other substandard roads there, as well as on the S-curve."
He also brought up this matter during the Sept. 25 Political Candidates' Night at the Sully District Council meeting. "We're spending $100 million to widen Route 50 so Loudoun residents can get to work more easily," said Troscianecki. "So we need to do nothing about the roundabout until we see if Route 50 solves their problem."
Del. Tim Hugo (R-40) — whose constituents live in the vicinity of this intersection — said he, too, is "adamantly opposed to that roundabout. A year ago, Loudoun said, 'We're not going to move this project quickly; we want to see what happens to Route 50 first.' Then last week, they said they were expediting the roundabout. But I think, once Route 50 is done, the traffic problem for Loudoun will be lessened and the roundabout won't be needed."
In addition, an environmental group is also becoming involved in the controversy. It's raising several issues that it says are of critical importance and must be addressed before the project moves forward.
In a Sept. 23 letter to the Fairfax County Board of Supervisors, Stella Koch, chairman of the county's Environmental Quality Advisory Council (EQAC), said the group's been watching this issue with interest. She also noted that a roundabout would affect the Rock Hill District Park, Mountain Road District Park and Elklick Preserve.

Koch said EQAC'c concerns regard "the unique ecological nature of the parks and the transition of a semi-rural road into a commuter road." She pointed out that wetlands are present in all three parks and that Rock Hill Park has a globally rare forested wetland community, plus two rare plant species that could be adversely affected by the project.
Furthermore, wrote Koch, "There is a receiving stream south of the proposed project that could be negatively impacted by increased flows — and no studies have been done to date to consider those impacts. Any VDOT proposal for this intersection must protect these state rare plants and the globally rare forested upland swamp community."

Calling the Braddock/Pleasant Valley roads intersection "the back door to the South Riding community in Loudoun County," Koch stated that many of those residents use the intersection to get to jobs in the Route 28 Corridor of Fairfax County.
Yet, she added, "The preferred route from South Riding to Fairfax County is via Route 50, which is designed for commuter traffic. The proposed enhancement [roundabout] would open an alternative route that is not designed for continuously increasing levels of traffic."
Koch also noted that the supply of commuters from suburban communities in Loudoun County would eventually "consume" the roundabout's new vehicle capacity. Therefore, she wrote, "EQAC suggests that alternatives be explored that encourage utilization of high-capacity roads as the first choice."
Agreeing with EQAC'c concerns, Virginia Run's Jim Hart said it's important that VDOT not skip over the environmental steps involved in this project. And, he wondered, "If the wetlands are not delineated, how can anyone critique the design intelligently or understand the impact on the forested wetlands [or] endangered plants?"
Besides that, added Troscianecki, "It's the last bastion of open space in western Fairfax County."