Long time Great Falls resident and artist, Marcia M. Fuqua, 85, died Sept. 9. Fuqua is remembered fondly in the home town as an artist and leader in the Great Falls arts community. In the last year, however, Fuqua has become more widely known as the mother of the woman who found the "Renoir in a box" and the controversy surrounding the ownership of the painting.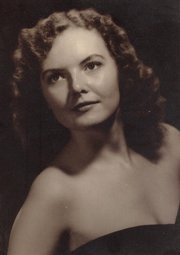 Fuqua, who moved to Great Falls in the 60s, was a determined woman who is remembered for doing things her own way. "She was way ahead of her time. She wasn't concerned about what others thought. She did things her own way. She had two kids in the 60s without being married, she put herself though college- she was always forging ahead," said her daughter Marcia "Martha" Fuqua.
The senior Fuqua had a long term battle with cancer. She was living with her daughter in Lovettsville, Va. when she passed away. "She spent her whole life slaying dragons. The last one got her," said Martha Fuqua of her mother's cancer.
THE GREAT FALLS ART STUDIO started by Marcia Fuqua was an active school until recently. Hundreds of local children and adults learned to paint at her classes. "She was still going out there in her walker to teach classes. She loved teaching and she loved painting. She did it as long as she could," said Martha Fuqua.
Julie Casso of the Great Falls Foundation for the Arts said, "The art classes she provided brought art into kids lives and that is so important."
"Thankfully, you didn't have to be very good for her to teach you, or try to teach you," said Robert Hamilton, a student in the 1990s. "You could tell she cared about her students and pushed everyone to find their own way," with a brush, said Hamilton.
The only medium Fuqua refused to teach was watercolors. "She hated watercolors. Just hated them," said her daughter.
Fuqua never shied away from controversy. Before she opened her studio behind her house, she opened one on Walker Road behind the firehouse and painted it purple. It became an iconic structure in Great Falls instantly. "People either loved it or hated it. It was the best advertising she could have done because everyone knew exactly where it was and had an opinion about it," said Martha Fuqua.
Marcia has two children, Martha and her brother Matt. They are not sure what will happen to the old house and studio off Walker Road. "She loved that house. It's a historical house. The big tree on the property is the oldest Shady Oak in Fairfax County. But there are taxes and stuff to deal with, so I don't know if we will keep it," said Martha Fuqua.
Marcia Fuqua was also extremely proud of her French heritage. In later years she changed the spelling back to the original French of Fuquet.
THE RENOIR IN BOX CASE, as it has come to be known, centers around the question of ownership of a small Renoir painting titled On the Shore of the Seine, that Martha Fuqua asserts she purchased at a flea market for a few dollars with a box of other junk. It was only after her mother, a professional artist, urged her to get the painting reviewed that it was discovered to be an authentic Renoir with substantial value.
It was later determined that the painting had been stolen decades ago from a museum in Baltimore, Md. The courts are currently deciding who owns the painting- the museum, the insurance company, the original donors or Martha Fuqua.
Marcia Fuqua, her daughter said, "Wouldn't care about that Renoir painting. Her concern was with me, not with that painting.
"She loved us [kids] more than anything," said her daughter Martha Fuqua. "She was a very independent, self sufficient and successful woman who loved her family and her art."