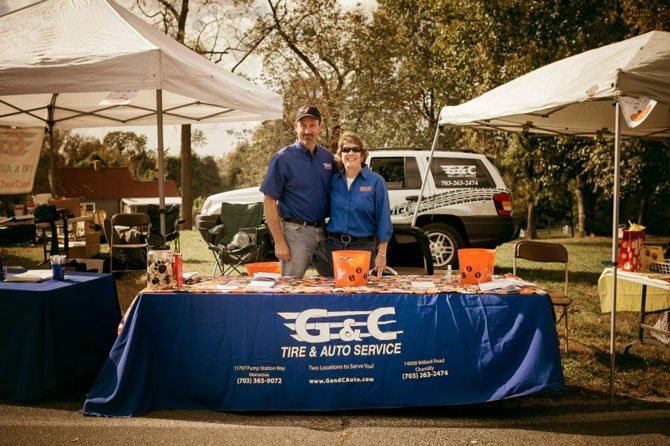 Making Centreville a Hometown
Centreville Day Chairman Cheryl Repetti explains what Centreville Day means to her and why local residents should attend.
Pat Lawless, one of the people who founded Centreville Day, used to say Centreville Day helped make Centreville a "hometown," and I believe that's true. That's what this year's theme is about, "Preserving the Past to Enrich the Future." If you know the history of a place, it helps connect you to it and helps make it "home" in a way that means more than the place you happen to sleep most nights.
Like most people who live in Centreville today, I wasn't born here; but knowing the history — and seeing the historic buildings and sites that are still here — enriches my feeling that this is my home now. It lets me see more clearly my place in this community, now and in the future.
Centreville Day also celebrates the present and the future Centreville. It's a great opportunity to come out and see and meet the folks who are your neighbors and are part of this community, even if they don't live in your particular neighborhood.
It's also a great opportunity to meet the businesses and organizations that work in the community. Not that we don't welcome folks from all over, but there is a solid cadre of local businesses, local churches, crafters, home sales folks and so forth.
Similarly, at the Showmobile stage, you get to see a lot of local talent, mostly young people. I think it's really wonderful to see how many young people and adults participate in the performing arts, and it's great to give them a chance to perform.
Many of those who live and work here help us organize Centreville Day. Come to the event and you'll see our Gold Sponsors, Greg and Christina Caldwell, handing out wrist bands for free children's rides. But what you don't see is that one of their employees, Cindy Ayer, comes to all our planning meetings.
Mark Reynolds at Sign-a-Rama not only makes our signs, he and his colleague Tom came out and put up the banner for us. Raul Berrios of RulyScapes bush-hogs the vendor parking area and his daughter Sarah sings the National Anthem for us. The ladies at Alpha Delta Kappa, the gentlemen of American Legion Post 1995, Karen Waltman, Meg Crossett, Marla Gebaide, Jim Daniels, Ted McCord, our 18th century swordmaster, Charlie Anderson: these people come to our committee and bring not only themselves and their skills, but their networks, and we build the day from there.
Organizing Centreville Day is a lot like those old Mickey Rooney-Judy Garland movies where Mickey says, "Come on kids, let's put on a play!" All these people come together and work with a common purpose and make it happen.
It's a lot of work, and, because we want to make the day a success, it can be stressful at times; but it's also — and this may sound corny — inspiring. And that's what being part of a community, of a hometown, is: inspiring.
— Cheryl Repetti,
Chairman, Centreville Day
Get ready — the 21st annual Centreville Day celebration is almost here. Slated for Saturday, Oct. 19, in Centreville's Historic District, it features a parade, music, a 5K, live entertainment, crafts, children's games and rides, food — who's up for fried Oreos? — and fun for all ages.
"People should come to Centreville Day to celebrate, relax and enjoy a great community event," said event Chairman Cheryl Repetti. "The Centreville Day Planning Committee makes a conscious effort to create lots of free activities that families can enjoy without spending a small fortune to keep the kids entertained. We hope it also encourages people to patronize the businesses in our marketplace and get an early start on their holiday shopping."


ZOMBIE SLOUCH
The fun kicks off at 9 a.m. with the second annual Zombie Slouch Family 5K Fun Run and Walk, outside St. John's Episcopal Church, 5649 Mount Gilead Road in Centreville. Race check-in starts at 8 a.m. at the church.
The event benefits the DC Candlelighters Childhood Cancer Foundation, dedicated to supporting families with children who are battling cancer or have been treated for cancer. And runners, walker and pets are encouraged to come in Halloween or historical costumes.
Besides awards given to the fastest male, female and child under 12, prizes will be given for the most creative adult costume and most creative child costume. Registration is $25 for runners; $20, walkers; and $60, families, until Oct. 18, via www.DCcandlelighters.org or www.CentrevilleVA.org.
Participants will go from St. John's to Wharton Lane to Pickwick Road, turning onto Leland Road to Colin Powell Elementary. They'll turn around there and return west along Leland to Pickwick, to Braddock and then to Mt. Gilead and the finish line at St. John's.


PARADE
A Centreville Day tradition for 21 years, the parade is organized and overseen by the veterans of American Legion Post 1995 and now boasts a new route and later start time. Costumes, pets, floats, decorated bicycles and scooters, and other inventive entries are welcome. Registration is free at www.CentrevilleVA.org.
Parade participants will gather at the end of Wharton Lane at 11:15 a.m. and begin their journey shortly before noon. They'll proceed west on Wharton into the heart of the Historic District, passing the stage, continuing along Mount Gilead and Braddock roads, winding up at Braddock and Pickwick roads.
Prizes will be awarded in various categories, including Most Patriotic and Most Enthusiastic groups, and the public is encouraged to line the parade route and cheer on the participants. Fire engines from Centreville Volunteer Fire Station 17 will lead the parade, followed by the Chantilly Academy Air Force JROTC Color Guard.
Other parade entries include SYA cheerleaders, members of the Chantilly Academy Air Force JROTC, Girl Scout and Brownie troops, Burke VFW, G&C Automotive and Centreville Dance Theatre. There's still time to join the parade. Registration is requested, but there are no fees.
Download a form at www.centrevilleva.org/content/orgs/48100001/1830/file_2754.pdf or contact parade Chairman Steve Hunter at geoshunter@gmail.com.


PARKING, VOLUNTEERING
Centreville Day runs from 10 a.m.-5 p.m. in Historic Centreville Park in the Centreville Historic District, 5714 Mount Gilead Road. The theme is "Preserving the Past to Enrich the Future."
Admission is free, and free remote parking will be at the Trinity Centre, 5860 Trinity Parkway. Shuttle buses provided by Centreville Baptist Church will take people to and from the festivities in the Historic District.
This event is organized by the Friends of Historic Centreville in partnership with the Fairfax County Park Authority and the Centreville Day Planning Committee. It helps raise money for historic preservation and Historic Centreville Park. More information is at www.centrevilleva.org.
Students and Scouts may obtain service hours by volunteering at Centreville Day. Sign up at www.CentrevilleVA.org and click on the green button for a variety of jobs on the day of the event. Or contact volunteer coordinator Karen Waltman at volunteer@centrevilleva.org.


NEW THIS YEAR
New features of Centreville Day 2013 include a climbing wall, mini history train, tight-rope walker, pet adoption and nZone Fun Zone. Three new historic signs describing the history of the Newgate Tavern will be dedicated. Gourmet dumplings, hot coffee, hot chocolate, fruit smoothies and fried Oreos are new at the food court.


Entertainment Lineup
Performing on the Showmobile Stage in the Centreville Historic District will be:
11 a.m. - Creative Dance Center - jazz, tap and lyrical dance.
11:30 a.m. - Dawn King's Not Just Dance.
12:30 p.m. - The Alliance Theatre - performing songs from its upcoming, November show, "The Little Mermaid Jr."
1 p.m. - Centreville Dance Theatre.
1:30 p.m. - Stephon Morton's NOVA Wushu Academy.
2 p.m. - Deejay Myra Flemister will play music and interact with the crowd.
2:45 p.m. - Harmony Road Music.
3:15 p.m. - Hallelujah Mission Tae Kwon Do demonstration.
Additional performers to be announced will fill the late-afternoon slots.
AWARDS, ENTERTAINMENT
Opening ceremonies are at 10:30 a.m. Westfield High sophomore Sara Berrios returns to sing the National Anthem. Supervisor Michael R. Frey (R-Sully) will present the Centreville Day Citizen of the Year and other awards.
DJ Myra Flemister leads a lineup of local talent on the Showmobile Stage, beginning with the Creative Dance Center's Performing Troupe doing an energetic show of jazz, tap and lyrical dance. Next will be Dawn King's Not Just Dance, followed by The Alliance Theatre performing songs from its upcoming show, "The Little Mermaid Jr."
Other entertainers will include the Centreville Dance Theatre, NOVA Wushu Academy, Harmony Road Music and Hallelujah Mission Tae Kwon Do.


FOOD
A food court features local restaurants and festival fare, including dumplings from Food Is Good, street tacos from Coyote Grill and a variety of barbecue items from Smokes BBQ. Mrs. P's Concessions will offer funnel cakes, hot dogs and hamburgers, and Chick-Fil-A will provide chicken sandwiches. Tinsley's Novelty Drinks will sell hot, gourmet coffees plus fruit smoothies and snacks including fried fudgy pies and fried Oreos.


CHILDREN'S ACTIVITIES
Gold Sponsor G & C Tire & Auto is again providing wristbands for free children's rides. The fun includes a climbing wall for older children and a fire-engine moonbounce for younger ones.
Attendees are encouraged to don Halloween costumes and follow the Trick or Treat Trail through the Historic District and marketplace. Stop at Virginia Heritage Bank's table to pick up a bag for collecting treats.
Korean Central Presbyterian Church will again offer cotton candy. Many other sponsors and vendors are also participating in the Trick or Treat Trail. Look for the pumpkin sign and stop at the information booth, at Mount Gilead, the Old Stone Church, and the Spindle Sears House.
Miss Charlotte and other women of Alpha Delta Kappa will return to the children's area with their Faces of Centreville contest, as well as old-fashioned activities such as tug of war, sack races, making pot holders, knitting and reading stories. They'll also give away gently used children's books while supplies last.
Face painting will be available and, next to the Spindle Sears House, the nZone Fun Zone will offer corn-hole games, ladder ball, Jenga, Legos, a water duck game, craft activities, coloring and balloons.


SHOPPING, CRAFTS
The community marketplace will offer a wide array of items from crafters, businesses, churches and other organizations. Handmade crafts range from jewelry by Brenap Jewelry and Vintage Star, to American Doll clothes and pillows from Lisa Reilly, wooden items created by Kenyon's Designs, clothing from Original Jean Creations and Lee Ann Designs, plus nursing wear for new moms. Local businesses will also help attendees remodel their homes, find new ones, improve their health and manage their finances.
SPONSORS
Sponsors include G& C Auto, Korean Central Presbyterian Church, Virginia Heritage Bank, Apple Federal Credit Union, Burke & Herbert Bank, Kiddie Academy, Remax Elegance, Centreville Preschool Inc., Bryan Hunt CPA, Centre View, Village Storage, Fairfax County Park Authority, Centreville Sign-a-Rama, RulyScapes, Republic Services, the Trinity Centre and Centre Square Professional Park. Wellspring Church provides DJ Myra Flemister, and the Historic Centreville Society sponsors the Swordmasters of the 18th Century.


PET ADOPTION
People may find their "fur-ever friend" at Centreville Day. The Friends of Homeless Animals will hold a pet adoption under the trees between the Spindle Sears House and the food court, near the nZone Fun Zone.


HISTORICAL ACTIVITIES
At 2 p.m., three new historical signs will be dedicated at the Newgate Tavern site on Braddock Road. Attendees may also take a ride on the Park Authority's mini history train and discover the treasures of Centreville's Historic District. The guided ride will travel between "stations" at Mount Gilead and the Old Stone Church; tickets are $3.
A van tour of Civil War Centreville for ages 12 and up will start from Ellanor C. Lawrence Park at 1 p.m. It features the Stuart-Mosby Museum, Mount Gilead and Centreville's Civil War fortifications. Register for the van tour at www.fairfaxcounty.gov/parks/ecl.
For those preferring a walking tour, Ghost Tours will meet at the Spindle Sears House at 5714 Mount Gilead Road. These not-so-scary tours examine the stories of ghosts, murder and lost love. Check the Centreville Day website or stop by the information booth for further details.
On the Mount Gilead lawn, discover tightrope-walker extraordinaire Jody Evans. Or take part in hands-on activities including candle-dipping and making quill pens and walnut ink. In addition, The Swordmasters of the 18th Century — Charlie Anderson and his son John — will offer fencing lessons.
On Braddock Road, the Old Stone Church and the Stuart-Mosby Cavalry Museum will be open for tours. Enjoy a Ploughman's lunch or purchase baked treats at the church, or chat informally with the knowledgeable docents at the museum.