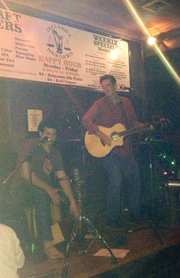 Arlington — Enjoy a night out in Arlington and a trip down memory lane at Ireland's Four Courts as the local band Calder & Pugh headlines the stage on Saturday, Oct. 19, at 9 p.m. with a set of songs ranging from '90s hits to some of today's hits to some of their own original music.
"[It's a] young crowd," said Matt McIntyre, the band's lead vocalist and guitarist. "The kind of music we play is geared towards that crowd because they grew up with that music."
Calder & Pugh came together less than a year ago, with McIntyre and Antonio Parisi, the band's percussionist and vocalist, bringing in different experiences as regular performers during their time in their own respective bands in State College, Pa. The Penn State graduates got the attention of the Irish pub's manager at an open mic night earlier this year.
"It's always fun playing music," said McIntyre, "and the fact that there are people out there that like to listen to this music is a good feeling."
With one headlining show already behind them, and their second to take place on Saturday, the duo is scheduled to perform once a month through the rest of the year at Four Courts. Located on Wilson Avenue, the pub is across the street from the Courthouse Metro stop and has parking available behind its building. For more information, visit www.irelandfourcourts.com.