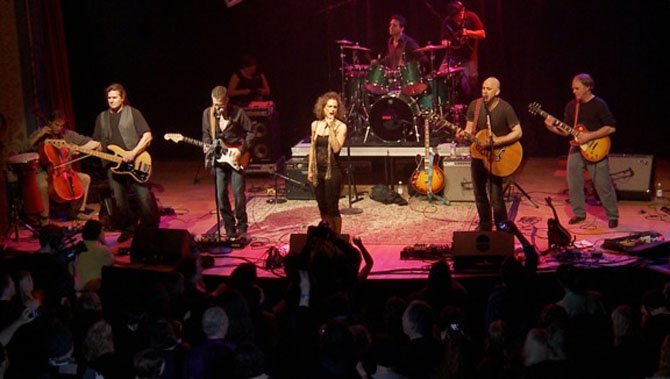 Potomac — N.E.D. or "No Evidence of Disease" — the words every patient hopes to hear — is the name of a rock band created by six GYN cancer surgeons who deliver a message and hope with each song they play. Bethesda's Karen Simon has joined with Emmy Award-winning filmmaker, director Andrea Kalin of Washington D.C.'s Spark Media to produce a documentary that chronicles the lives of the doctors as well as the courage and experiences of their patients.
The movie descriptor explains: "As music and medicine join forces in the fight for life, surgeons are transformed into rising rock stars, and their patients and loved ones jump on the bandwagon, infusing the struggle for survival with heart, hope and Rock 'n' Roll." The doctors, irate because gynecological cancers do not receive the publicity that other cancers receive — or the funding — choose to take on the "Below the Belt" cancers. Their songs are original and they play not only for their own satisfaction, but to honor the courage of their female patients and their devoted families and friends, who join in the fight to make others aware of this "silent killer."
Statistics indicate that 88,000 women are diagnosed yearly with gynecological cancers — and approximately 30,000 will die each year. The five gynecological cancers are ovarian, vaginal, cervical, vulvar and uterine and the most fatal is ovarian cancer. The Pap smear is the only available screening for cervical cancer, but there are no other routine tests that reveal the other gynecological cancers. Symptoms may include vaginal itching or burning, back or abdominal pain, being tired all the time, having to pass urine very badly or more often than usual, bloating, and bleeding from the vaginal area.
The doctors who make up the rock band N.E.D. are from throughout the United States. They met at a professional meeting and decided that, as Dr. John Soper said, "We want to make a noise. There's been a wall of silence around it, and hopefully we can, we can bring some noise so that we're heard and our patients are heard." Soper (guitar) is the Hendricks Professor of Obstetrics and Gynecology at the University of North Carolina School of Medicine. Dr. John Boggess (vocals, guitar) is a surgeon and professor from the University of North Carolina School of Medicine. Dr. Joanie Hope (vocals, guitar) is a gynecologic oncologist at the Denali OB/GYN Clinic in Anchorage, Alaska. Dr. Nimish Nagarsheth (drums, percussion) is on the faculty of Mt. Sinai Medical Center in N.Y.C. and Englewood Hospital and Medical Center in Englewood, N.J., Dr. William "Rusty" Robinson (bass, harmonica) is professor of gynecologic oncology at Tulane University in New Orleans, La., and Dr. William Winter (guitar) is a gynecologic oncologist at Northwest Cancer Specialists in Vancouver, Washington and Portland, Oregon.
N.E.D. performs about six times a year. They practice on their own, then Skype one another and rehearse from afar together. When they stride onto the stage, they are transformed into six rockers intent on delivering sounds that haunt the soul and bring positive vibrations, healing their patients, families and loved ones and energizing themselves from the burn-out and exhaustion. They are raising funds for their cause — "one song at a time." N.E.D. will be performing at 6 p.m. on Nov. 2 at Penn Social, 801 E. Street in D.C. as a part of the National Race to Cure Women's Cancer Weekend.
Producer Karen Simon said, "The documentary is about awareness, the power of music, seeing the women with cancer up close and personal. We wanted our audiences to know the rock doctors and understand what family members are faced with. It's about courage and dedication. Besides 'No Evidence of Disease,' we also created a comprehensive tool kit video for women called, 'What Every Woman Should Know' which delivers information and resources as well as questions to ask doctors and ideas for caregivers. A GYN/oncologist will be at every screening to answer questions. Dr. Larry Maxwell, chair of the Department of Obstetrics and Gynecology at Inova Fairfax Hospital, will be featured at Bethesda.
"We filmed it wherever the doctors are — N.Y., N.C., Portland, Alaska and New Orleans. There are many ways to tell the story and there are so many stories to tell. We wanted to deliver the themes and the messages — the importance of this band to these women and the families, and the power of music to heal for the doctors and the women. It's about what the band has done — women now have a voice through the band. The music — they are rockers — they take universal life themes and apply them cancer and to life."
Simon has been producing documentary films for Spark Media for 14 years. She was managing director of Voices on the Street as well as a producer and on-air host for the Voice of America. She also directed a non-profit theater group for the homeless and at-risk children, and is active in community theater.
"No Evidence of Disease" will play at Landmark Bethesda Row Cinema on Nov. 5 at 7 p.m. The screening is being held as a TUGG, Inc. a web-platform which gives individuals the opportunity to choose significant films for their local theaters and invite their friends and community to the screening. This film is sponsored by Wendy Feldman Block and Robin Weinberg and is nearly sold out. To learn more about sponsoring movies through Tugg, Inc. go to www.tugg.com.
To view a trailer of the film or to learn more about it, go to www.n.e.d.themovie.com. For screening inquiries and media contact, contact Simon at karen@sparkmedia.org. To listen to or purchase the sounds of N.E.D. go to www.ned.theband.com.