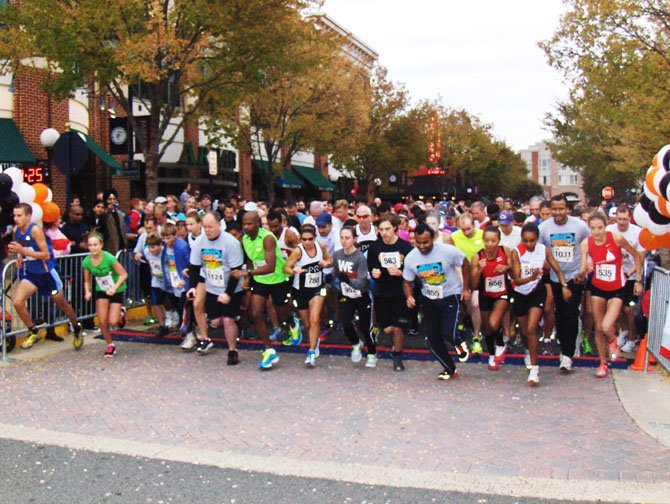 Jack-o-lanterns, pumpkin pie and colorful leaves signal that Halloween will soon be here. And that means it's time for the Goblin Gallop. This year's event is the 20th annual and it's set for Sunday, Oct. 27, at the Fairfax Corner Shopping Center.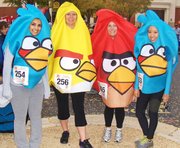 And although it raises money for a serious cause, there's always a party atmosphere. Many of the participants, plus those cheering them on, wear Halloween costumes; and afterward, there are refreshments and a costume contest.
"It's more than just a 5K race," said event organizer George Quadrino. "It's a family-fun event with live music, a moonbounce and commemorative T-shirts."
Rain or shine, the race begins and ends in front of Coastal Flats restaurant. The 1K fun run starts at 8:30 a.m.; the 5K race, at 9 a.m.; and the 5K walk, at 9:10 a.m. Entry fees through Oct. 24 are $28 for the 5K run, $20 for the 5K walk and $15 for the 1K fun run. From Oct. 25 on, those fees, respectively, are $30, $25 and $20.
Entrants should add $5 to each amount if they'd like a long-sleeved, rather than a short-sleeved, T-shirt. Register at www.goblingallop.org. Online registration will remain open until race time.
PEOPLE MAY RUN individually or as part of 5K teams competing against each other. Participants may be on a coed team of at least four people; the categories are organizations, families and friends. The top team in each category will receive fun awards for best team costume, fastest team—adding up the four members' times, and for the team with the most members registered before packet pickup on Oct. 25.
Fairfax Station's Dixon Hemphill is the race director; and because of its headline sponsor, the race's official name is the Valvoline Instant Oil Change Goblin Gallop. Other main sponsors include Don Beyer Volvo, the Shaffer Charitable Foundation and the law firm of Butzel Long.
All proceeds go to the John Quadrino Foundation to Benefit Children with Cancer. George Quadrino established it after his son John died of the disease in 1985 at age 7. And each year, money raised from the Goblin Gallop is used for numerous, small grants to help childhood cancer victims and their families.
"We raised almost $40,000 last year and that helped a lot," said Quadrino. "It allowed us to help about 260 families."
Some 1,850 people participated in last year's Goblin Gallop, and Quadrino expects between that number and 2,000 people this time. Usually, hundreds of people sign up on race day and, said Quadrino, "Computer registration only takes a moment."
The course is USATF-certified, and prizes valued at $150, $100 and $50 are awarded to the top three, overall, male and female finishers. Prizes are also given to the top three overall finishers in various age categories, including a masters group for those over 40. All children participating will receive runner's medals inscribed with the words, "20th annual Goblin Gallop."
All competitors will receive a free, commemorative, glow-in-the-dark T-shirt. Decorated with the words, "Goblin Gallop," in orange, the shirts are purple and feature a scene of trick-or-treaters walking past a haunted house and a large, rising moon.
No dogs or headphones are allowed in the 5K events, but strollers are welcome in both the running and walking events. A computer chip in the runners' numbers will register their starting and finishing times.
The route is challenging, but runners like it because it's fairly flat, with few hills and all right turns. Race D.C. Timing LLC will handle scoring and results, and the awards ceremony will be on the stage in front of Coastal Flats. Results will be posted that afternoon at goblingallop.org and Results.racedctiming.com.
After the race, the band Shaky Ground will perform classic rock on the Fairfax Corner stage, costumes will be judged and awarded prizes, and participants will enjoy hot dogs, breakfast bars, fruit, cookies and beverages.
Another highlight will be the Reptile Man, who brings snakes, a baby alligator and other reptiles for viewing by interested attendees. "He talks about them and explains what they eat," said Quadrino. "Kids are absolutely fascinated."
In addition, more than $3,000 in door prizes will be given away. Most are donated by local merchants and include Redskins tickets, restaurant meals and gift certificates at running stores. Glory Days Grill is the largest prize-contributor, donating $1,000 worth of goodies.
Because of the Goblin Gallop, the John Quadrino Foundation is able to make nearly 300 grants per year, totaling about $80,000. The recipient families are referred by pediatric social workers at Inova Fairfax and Children's hospitals, and the grants are given directly to these families.
Because medical bills can be overwhelming, parents of seriously ill children often need help with rent, utility bills or car-repair costs. Often, one parent must quit a job to stay home and take care of the child. And a family with no prior financial problems suddenly finds itself in dire straits. That's where the foundation comes in.
Each year, for example, it awards grants for generators. They go to families with a child who relies on a lifesaving machine at home. And, said Quadrino, "If their power went out, it could be devastating."
THE FOUNDATION buys wigs for children who've lost their hair to radiation/chemotherapy. And in the past few months, said Quadrino, "We outfitted 10-12 families with back-to-school clothes for their children."
"We've also paid for a sibling's child care so parents can visit their sick child in the hospital," he continued. "My wife and I saw the need when our son was going through this, and he did, too—he's our inspiration. He'd see kids like him who didn't see their parents very much, except for Sunday afternoons."
Worrying about their child's health, while wondering how they'll pay their rent or mortgage, is a "double whammy" for parents, said Quadrino. So his Foundation does all it can to help them.
"In the beginning, we were hoping to make three or four thousand dollars from the race, and it snowballed," he said. "But the need is still there. We also take care of lots of unpaid utility bills. Every week, we turn on people's lights and stop them from being turned off. We fill in where insurance doesn't."
Reflecting on the Goblin Gallop's 20th anniversary, Quadrino called it "pretty unusual" for a race to last that long, but he's glad it has. "We feel really good about it," he said. There are a lot of volunteers involved and we appreciate our sponsors. This allows us to help more people and we're excited about it."
To donate to the organization, send checks payable to The John Quadrino Foundation to P.O. Box 4614, Falls Church, VA 22044. Contributions are tax-deductible and may also be made via the Combined Federal Campaign by designating CFC No. 8931, or via the United Way by selecting No. 59426.