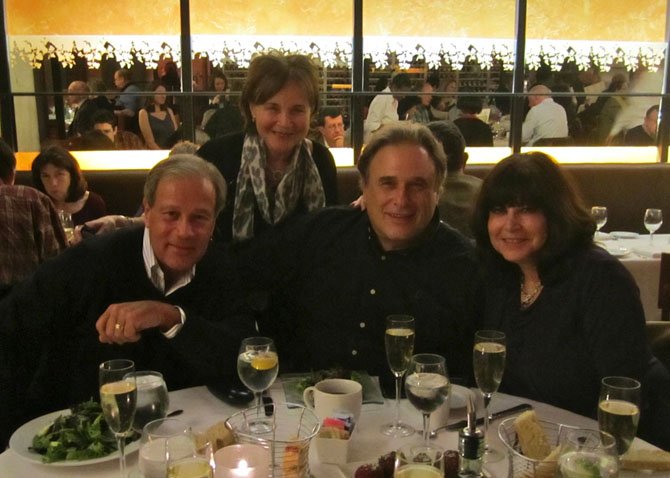 Potomac — Their mothers told them: "You can't live with them, and you can't live without them."
Their mothers were referring to husbands — and while most women don't want to live without them, many a wife may need some strategies for making her marriage better.
For this answer, Potomac resident Monica Schaeffer and her long time friend, Beth Rabinowitz, turned to one-another for the solution. Together, they figured out how to create successful marriages and gain fulfillment and happiness with their husbands. This prompted them to coauthor "Who's Your Hubby? Tips for Living Happily with 10 Hubby Types."
Schaeffer and Rabinowitz's husbands were friends since middle school and when the women met them while dating them in college, they became fast friends. After getting married, Schaeffer settled in Potomac and Rabinowitz in Rochester, N.Y. The two women pursued successful careers, Schaeffer as a psychologist and Rabinowitz, a marketing professional, while raising their children. Throughout the years, the two families grew closer and travelled together frequently. They developed an annual tradition to get their families together every Labor Day and New Year's weekend. Whenever they were together, the women had long conversations about the joys and challenges of their marriages. Schaeffer said, "We realized that we were dealing with a lot of similar issues in our marriages and it felt good to talk to each other because we always came up with strategies to help navigate through difficulties and it would help to boost our spirits."
With more than 60 years of marriage between them, Schaeffer and Rabinowitz wanted to share "their recipes for marital success like women trade recipes" and the idea to collaborate on a book started taking shape. Schaeffer, who is a clinical health psychologist with a research background, decided to poll other women who had been married for more than 25 years to understand common themes that led to a successful long-term marriage. Schaeffer said, "We developed the 'Marital Wisdom Survey' and gathered responses from more than 100 women who had been married 20 years or more. The questions focused on characteristics of their husbands and the strategies that respondents had developed to cope with their husbands' behavior."
Based on their own life experiences and the data they collected, the authors identified 10 specific "hubby types." They concluded that understanding one's hubby type leads to the ability to develop successful strategies towards building a happy marriage. Each chapter of the book addresses a specific hubby type; for example "non-communicative" hubby, "unromantic hubby" and "sportsaholic hubby." Then, through research, they have elicited "warning signs" (to help predict the hubby type) "strategies" (for coping) and advice (Do Something for Yourself — tips for modifying and optimizing harmony.) The combination of humor, insight and wisdom in the book resulted in a practical guide for soon-to be weds, newly weds and even couples in long-term relationships.
Although the women live in different areas, they found that they had similar writing styles. They continued their New Year's get togethers, now as empty nesters, and used the time to discuss ideas and edit their drafts. From start to finish, the book took about 3 years to complete. Schaeffer said, "One of the best things about working together is that it became a true family affair. Our husbands are so proud of us and even wrote a chapter for the book called, 'Why Nagging Doesn't Work.' All five of our children contributed to our efforts by illustrating, giving us marketing assistance and developing our social media strategy, including our Facebook page."
Schaeffer says that with the divorce rate for first-time marriages hovering around 50 per cent, she hopes this book will help promote marital harmony and minimize marital discord. She won't reveal which type of husband hers is specifically, but she says, like most men, he is a composite of a few different types. Both women recognize that there is no perfect husband or marriage, but their marriages work for them and concede that their marriages are perfect for them and they hope they can help many others achieve the same success.
"Who's Your Hubby?" is available locally at Leila Fine Gifts and Jewels in the Cabin John Shopping Center, The Blue House in Bethesda, and The Christmas Attic & The Urban Attic in Old Town, Alexandria, where the author will be doing a book signing, Nov. 11 from 11 a.m.-1 p.m. The book also can be ordered on Amazon, Barnes & Noble or at www.whosyourhubby.com.