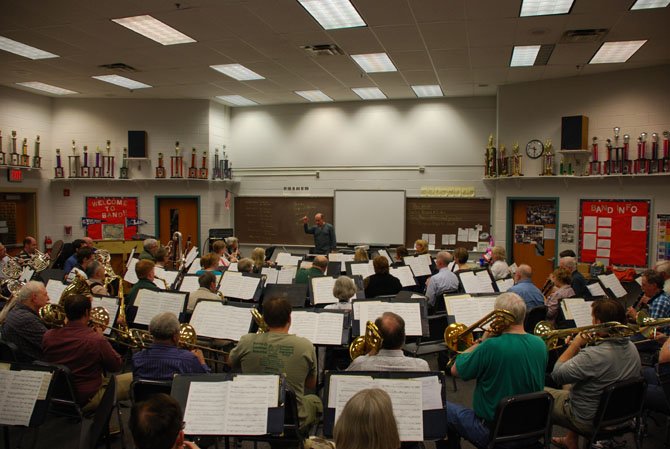 City of Fairfax Band Celebrates Fall
"Some of us have been together 30 years, and all know each other. People really don't leave the band. They either move, change jobs or die. They play until they can't do it anymore."

—Fairfax resident Daria Parrell
Where and When
"Tell Me a Story: A Collection of Musical Tales" takes place at 8 p.m. on Saturday, Oct. 26 at Fairfax High School. Tickets are $15 for adults and $10 for seniors. Students under 18 years old receive free admission.
To kick off the holiday season for the City of Fairfax Band, director Robert Pouliot chose an exciting program of pieces that all "tell a story" for the ensemble's Saturday, Oct. 26, concert at Fairfax High School.
"I'm the kind of person that my favorite program I'm conducting is the one I'm doing right now," said Pouliot, who was appointed as music director in 1994.
The program will be hosted by longtime band collaborator Rich Kleinfeldt, and begins with the wind band standard "Hobbits" movement from Johan de Meij's "Symphony No. 1, Lord of the Rings." Next on the bill is "A Symphony of Fables" by Julie Giroux, "L'Apprenti Sorcier" (The Sorcerer's Apprentice) by Paul Dukas, "Songs of Abelard" by Norman Dello Joio and "Jericho" by Morton Gould.
Peter Jackson's latest Hollywood epic tie-in for "Hobbits" makes it an obvious choice for the program titled "Tell Me a Story: A Collection of Musical Tales." And "The Sorcerer's Apprentice" typically "has a big go around this time of year," said Pouliot. "That will just be a lot of fun."
The works by Gould and Dello Joio are in tribute to the composers sharing a centennial celebration: "Songs of Abelard" features soloist Kate Campbell Deglans and tells the 12th-century French legend of Héloïse and Abelard, while "Jericho" ventures further back to Biblical times, as the name suggests.
The Giroux symphony brings to life fables from the Brothers Grimm and Aesop—including "The Lion and the Mouse" and "The Pied Piper of Hamelin"—and should delight concert-goers with visual projections that accompany the music and help tell the stories.
NOW IN ITS 44TH SEASON, the City of Fairfax Band is known for such unique twists in their concerts, which otherwise feature strong musicianship and creative programming. The band association has grown exponentially from its 1969 origins as a city band made up mostly of Fairfax High School students under the direction of Matt Hynes.
But even with the addition of eight other ensembles—including the more recent Main Street Community Band and Northern Virginia Youth Winds—the organization is still trying to keep pace with the growth of Fairfax itself.


"There was a time in the past when Fairfax was a smaller town," said Pouliot, "and the whole area was less epic. We were more like a lot of typical town bands. We were very popular with the very local people right here.
"As we've had this influx of people," he continued, "we need to get those new people back in. It's been a struggle to keep the locals."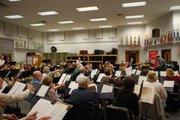 Longtime Fairfax resident Daria Parrell joined the band while still in high school in 1969. "At first it really was people from close by," she said. "But as the band gained notoriety, it started attracting people who would come from Maryland and D.C. to play."
She and husband Rick are still in the band ("It's the one thing we've done together all these decades") today, and attribute the group's longevity to its core of dedicated musicians.
"This band still has a heart," said Parrell. "Some of us have been together 30 years, and all know each other. People really don't leave the band. They either move, change jobs or die. They play until they can't do it anymore."
Though she doesn't believe the mission of the band has changed, its message doesn't reach the large percentage of Fairfax it used to. "It's a place to keep playing," Parrell said. "We need community bands. They reinforce the idea of making music."
SO POULIOT AND COMPANY look to stand out in any way possible, including playing and commissioning new music. Their annual Christmas concert will feature custom-arranged pieces for the band to partner with the Fairfax Choral Society, as well as a new setting of "Twas the Night Before Christmas" by Texas-based composer Randol Alan Bass.
"There are so many Christmas concerts around here," said Pouliot. "You can go to any school's holiday celebration, all the service bands do their big Christmas programs—we have to do something that's different."
For the band's March 22, 2014 concert, Pouliot made an unusual choice to perform an all-George Gershwin program. "I'm kind of going against the grain with that with a lot of people," he said. "But it's great music. I don't care that Gershwin didn't ever write a band piece. I just know that he wrote some great music, and we're going to play a lot of it."
They're also working to broaden the band's geographic appeal by adding performances at other venues, such as George Mason's Center for the Arts. In late March, 2014, the band will travel to Allentown, Pa. to perform at the 36th annual National Band Convention.
"We were just informed last week that we were selected for that," said Pouliot. "The band's very excited." It's an excitement band members are hoping to share with more local residents than ever over the next year.