The House of Delegates has legislative power, with the Senate, to enact laws. Delegates serve a 2-year term and are eligible for re-election. The salary is $17,640 per year. A delegate must be at least 21 years old at the time of election and be a resident of the district he/she seeks to represent.
Patrice M. Winter
Candidate: Fairfax resident Patrice M. Winter, 59 (Republican)
Education: Bachelor of Science, physical therapy, Virginia Commonwealth University (VCU); Master of Science, physical therapy, University of St. Augustine; MS, executive health management, George Mason University (GMU); DPT, Shenandoah University
Occupation: term assistant faculty at George Mason University and licensed physical therapist
Website: http://www.electp...">www.electpatricew....
Q: What is your legislative priority this session?
Winter: As a health care provider, I have seen how Affordable Care Act has affected patients and even how companies are doing business. Seeing Virginians have access to high-quality and affordable health care is a top priority.
Bulova: My focus will continue to be on our economy and quality of life, which are integrally linked with transportation and providing our children with a world-class education. I will also fight for meaningful ethics reform.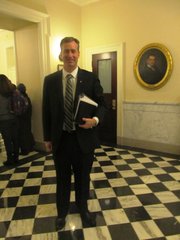 Del. David L. Bulova
Candidate: Fairfax Station resident David L. Bulova, 44, is the Democratic incumbent
Education: Bachelor of Arts, government, College of William and Mary; Master of Public Administration and Policy, Virginia Tech
Occupation: senior environmental planner
Website: http://www.davidb...">www.davidbulova.com
Q: What makes you the better candidate?
Winter: Issues in education, healthcare, small businesses are important to many in the 37th District. I have significant experience in these areas as a health care provider who owned a practice for 17 years and an educator at George Mason University.
Bulova: I am a problem solver and have successfully worked in a bi-partisan manner to pass legislation on transportation, education, identity theft and human trafficking. I work hard to be open and accountable to district residents.
Q: In your role as a state legislator, how would you impact the lives of your constituents?
Winter: We are more effective as statesmen, not politicians. A statesman listens to constituents, responds and acts. Engaging constituents in the legislative process is a key component in the actions of an effective state legislator.
Bulova: My most important job is to empower constituents to have a voice in our government. In Richmond, I serve on committees and commissions that make key decisions surrounding education, health care, housing and water supply.
Q: Tell us something about yourself that you think people would find surprising—a hobby, a talent, or an interesting fact.
Winter: I was the student representative to my town council my senior year in high school. Also, as the American Physical Therapist Association spokesperson, I was interviewed by "O" Magazine.
Bulova: I love history and believe in its importance in education. I can often be found volunteering at Gadsby's Tavern Museum, hanging out in colonial costume with re-enactors playing Washington, Jefferson and Madison.