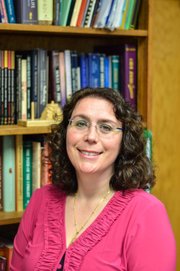 Rabbi Michelle L. Goldsmith joined Congregation Beth Emeth as rabbi beginning July 1, taking the pulpit as Beth Emeth's third full-time rabbi in the synagogue's 34-year history. Rabbi "Mina" Goldsmith takes over for Rabbi Steven Glazer, who retired after 18 years at Beth Emeth.
"This is my second time as the solo or lead rabbi, I am enjoying it very much," said Goldsmith. Goldsmith comes to the area from Birmingham, Ala. where she led Temple Beth-El for four years. Goldsmith is settling in to life in Northern Virginia with her four children and her husband Jeff.
With a new rabbi, the congregation has experienced an increase in activity. "There has been a lot of new energy and new programming," said Executive Director Linda Eisinger. "The rabbi is more involved in the high school program, and how to address life issues with a Jewish perspective," said Ita Mandel, the congregation's school director. One of Rabbi Goldsmith's more recent projects has been preparing for the congregation's High Holiday activity.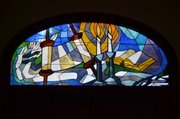 THE JEWISH HIGH HOLIDAYS begin with Rosh Hashanah, also known as the Jewish New Year, starting at sundown on Sept. 4 and ending at nightfall on Sept. 6. For many Jewish families, it is a holiday of reflection and renewal, as well as a time to share a holiday meal with family and friends. Congregation of Beth Emeth families will celebrate a special Rosh Hashanah afternoon at Frying Pan Park in Herndon with a family service, Tashlich and picnic dinner and a family-friendly Ma'ariv service. The festivities get underway with a Family Service from 4 to 5 p.m. followed by Tashlich at 5 p.m.
During the holiday of Sept. 20, the Congregation of Beth Emeth will host a Sukkot Shabbat Potluck Dinner and Service. The dinner begins at 6:30, followed by Erev Shabbat services at the special time of 7:30 p.m. "Up until now we have not had potlucks," said Goldsmith.
Another event will be the Sept. 26 Simchat Torah. Simchat Torah is a component of the Biblical Jewish holiday of Shemini Atzeret ("Eighth Day of Assembly"), which follows after the festival of Sukkot. "We have been lent a beautiful, brilliant torah scroll which is on extended loan for the congregation. We will be dedicating this scroll, and this is very exciting," said Goldsmith.
THE TORAH is owned by congregants David and Sheri Cerny.
"Clergy life is very interesting," said Goldsmith. "This congregation is nice because there are a lot of lay people here. There are a lot of knowledgeable congregants who are ready to share the burden and get things done. We have an active youth group, the religious schools are thriving, and we have had musical Friday services, which have been very well received.
"The people here are incredibly friendly, not only in my congregation but also in the broader community and neighborhood we are living in. We are very excited for school to start and our children to meet more people and become more involved. I am hoping for a very long and successful time here. I feel very at home here," said Goldsmith.
More like this story